Hey, where's my iPhone 6s? Find out with these tracking tools
You're not the only one sitting at home and refreshing the UPS tracking page. Use these tools to wait for your iPhone more efficiently.
If you're set to get your iPhone later this fall, Slice will monitor your receipts and keep you up to speed when it's finally ready to go, keeping you in the loop with status changes. You can also pin that preorder to the top of your list, so you won't miss anything if you've turned notifications off. Plus, having an app act as your concierge means you don't have to constantly open your email, click the tracking link, and check the listing. Push notifications make that much easier.
Parcel
If you're not comfortable with having an app comb through your inbox, you might prefer an app you manually control instead. Parcel (free with in-app purchases) is another tracking tool, but this one just focuses on shipments and deliveries—you won't find any budgeting tips here. Just enter your iPhone's shipping number as soon as you get it from Apple, and Parcel will hunt it down. (You can also scan a package's barcode.) Though UPS is Apple's standard carrier, Parcel supports shipping info from more than 240 shipping companies worldwide.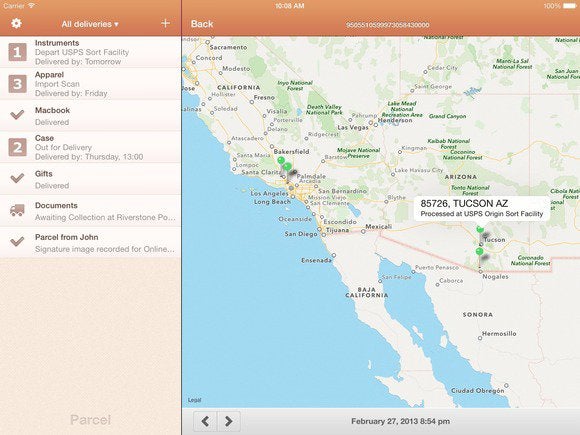 Instead of reading your email, Parcel only tracks what you tell it to, then shows you where your package is on a map.
Parcel will display your shipment's up-to-date info within the app, and also in the Today tab in Notification Center if your device is running iOS 8 or iOS 9. Tap on an item to see where your shipment is in the app's map view. However, if you'd like to receive push notifications, that will require you to cough up $2 to get the premium version of Parcel, which also lets you track more than three shipments at a time.