Here's why hydrogen-fueled cars aren't little Hindenburgs
Hydrogen is explosive, but supply is a bigger issue for the nascent industry.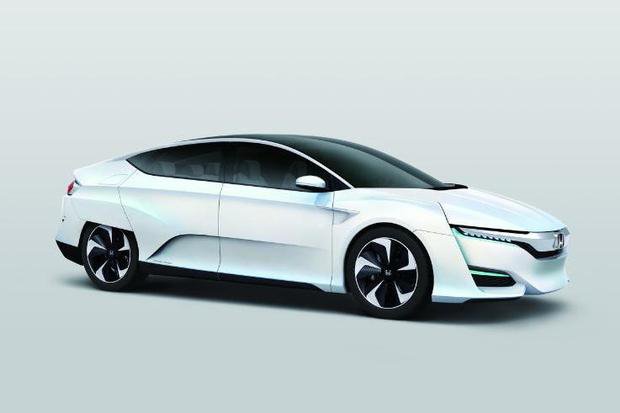 Honda's new prototype FCV (fuel cell vehicle), which will be available in 2016. Credit: Honda
For all the volatility of a gas like hydrogen, which combusts with one-tenth the energy required for gasoline, fuel cell vehicles are safer than internal combustion engines, according to industry experts.
At last week's LA Auto Show, several major car companies, including Audi, Honda, Hyundai and Toyota announced the release of, or updated plans for releasing, hydrogen fuel cell vehicles this year or over the next two years.
Toyota touted its four-passenger fuel cell vehicle (FCV), the Mirai, which will begin shipping next month. Audi unveiled the A7 Sportback h-tron quattro, a modification of its four-door coupe that swaps out a traditional drivetrain for a hydrogen fuel-cell-powered electric motor.
Meanwhile, Honda, which already leases its FCX Clarity hydrogen FCV in California, announced another concept vehicle that it plans to release in Japan in 2016. And, Hyundai, which began leasing its Tucson Fuel Cell in June, plans to produce 1,000 of the vehicles this year.
All of the cars are able to fully charge with hydrogen in three to five minutes, compared to the 20 minutes it takes for a Tesla all-electric vehicle (EV) to charge just half way.
A full charge in a Tesla provides up to 265 miles of travel. A Toyota RAV4 EV, gets only 125 miles on a full charge. Hydrogen FCVs, by comparison, can go 300 or more miles on a single charge.
Along with fast fueling and long distances, hydrogen fuel cells also carry a somewhat unfortunate reputation, via the infamous LZ 129 Hindenburg, the hydrogen-filled airship that exploded over Lakehurst, N.J. in 1937.
Toyota spokesperson Jana Hartline said hydrogen fuel cells have gotten a bad rap as dangerous, but the perception is unwarranted.
"I think it's just our perception of hydrogen being extremely flammable and dangerous compared to what we're comfortable with in this day and age, which is gasoline," she said. "Gasoline is also an extremely flammable fuel and one that does not escape like hydrogen."
The hydrogen fuel cell tanks in the Toyota Mirai are pressurized up to 10,000psi, and hydrogen is 16 times lighter than air. So, if punctured or otherwise compromised, the hydrogen gas would instantaneously dissipate into the atmosphere, Hartline said.
John Kopasz, a scientist with Argonne National Laboratory who performs research on hydrogen gas production, said that while there are inherent dangers with any combustible fuel, hydrogen fuel is safer than gasoline.
If a gas tank is punctured, fuel pools beneath the vehicle, creating a source for a prolonged burn, Kopasz said.