Here's how much Tesla will require EV owners to pay to charge up
A trip from Los Angeles to New York will cost you about $120 in charging fees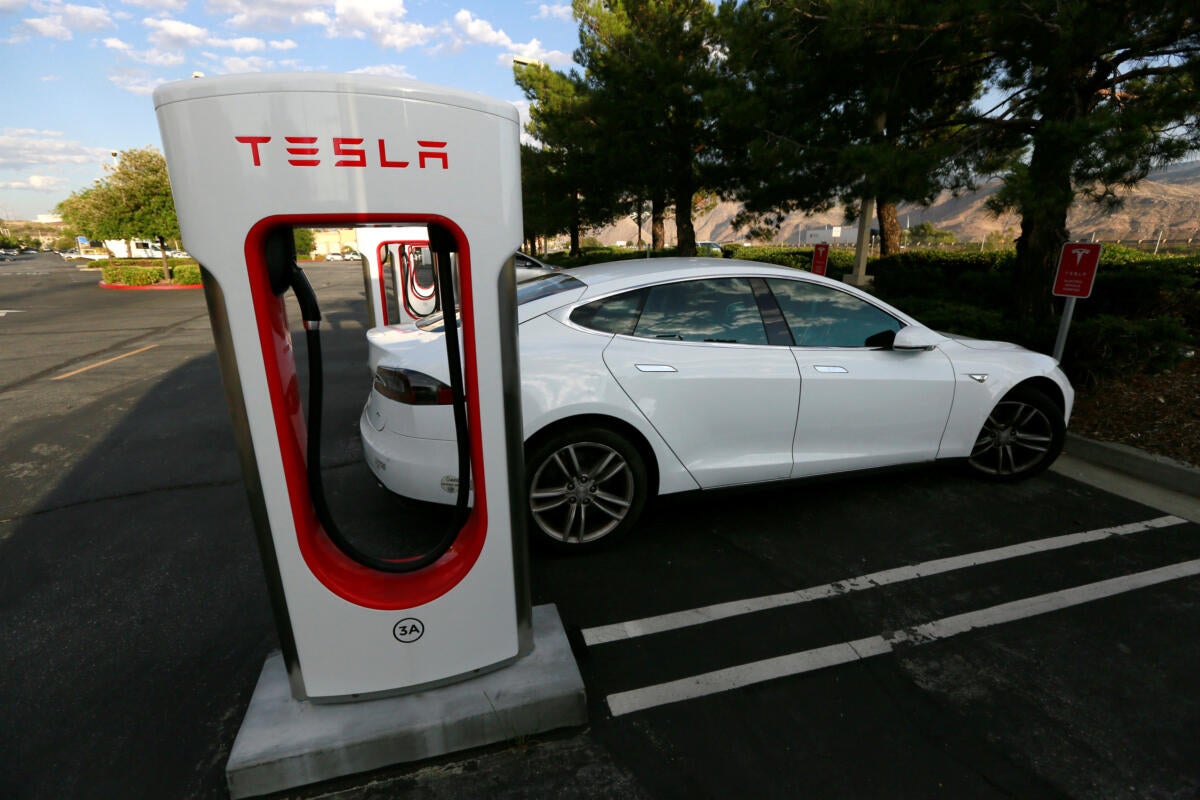 It will now cost new Tesla owners about $15 to make a road trip from Los Angeles to San Francisco when using the company's Supercharging stations.
[To comment on this story, visit Computerworld's Facebook page.]
The new pricing applies only to owners who purchase their electric vehicles after this Sunday. Those who bought vehicles before Jan. 15 will continue to receive free charging, the company said.
Tesla Motors
A Tesla powering up at a Supercharger.
The company this week announced that its charging costs will vary from state to state and depend on which charging "tier" a driver is using. Tier 1 pricing, which applies to cars charging at or below 60 kW per minute, will cost half as much as cars using Tier 2 charging, which applies to cars charging above 60 kW per minute. In New York, Tier 2 charging will cost 20 cents a minute and in California, it will cost 19 cents.
Cars using fast charging or Tier 2 charging can attain about a half a full vehicle charge in 30 minutes -- enough to travel up to 170 miles.
Tesla announced both kilowatt hour and by-minute pricing for its Supercharger stations, and said a road trip from San Francisco to Los Angeles (about 380 miles) would cost about $15. (A cross-country trip from Los Angeles to New York -- about 2,800 miles -- would run around $120 in charging fees.)
Tier 1 pricing also applies anytime your vehicle is sharing Supercharger power with another car. Supercharger pricing information can be viewed on the vehicle's 17-in. touchscreen.
Tesla Model S and Model X cars ordered after Jan. 15 will receive 400 kWh (kilowatt-hour) of free Supercharging credits (roughly 1,000 miles) annually on the anniversary of their delivery.
"We carefully considered current Supercharger usage and found that 400 kWh covers the annual long-distance driving needs of the majority of our owners," Tesla said in a blog. The company didn't mention whether buyers of the Model 3 EV, due out in mid-2018, would also receive an annual free charging credit.
The Model 3 will be Tesla's most affordable EV, with a starting price of about $35,000, and was originally slated to ship at the end of this year. Preorders for it have topped 400,000.
In North America, Tesla Supercharging pricing is fixed within each state or province. Internationally, pricing is fixed within each country, Tesla said.
Tesla Motors