Healthcare players are actively blocking data sharing
Technology is not the issue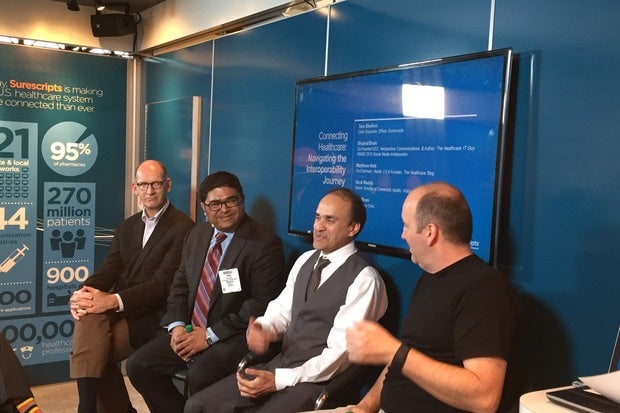 \
A panel of industry experts at the HIMSS conference agreed that interoperability between EMR systems is not a technical problem, but one of willingness of vendors and institutions to share. L-R: Cris Ross, CIO, Mayo Clinic; Venk Reddy, senior director of Connected Health at Walgreens; Shahid Shah, CEO of Netspective Communications; Tom Skelton, CEO Surescripts. Credit: Lucas Mearian
Five years ago, only 20% of physicians used electronic medical records (EMRs). Today, 80% use them.
Since the enactment of the HITECH Act, which required that EMRs be adopted across all healthcare providers, the federal government has invested more than $28 billion toward their use.
And, yet, EMR data sharing between disparate vendor platforms, geographically dispersed facilities and unassociated medical institutions remains at a virtual standstill.
Experts at the Healthcare Information Management Systems Society (HIMSS) conference here this week said the industry knows the problem isn't a technological one; it's about the money. By keeping their software proprietary and unable to exchange data, or by actively blocking the use of protocols that would otherwise allow it, vendors can corner their respective markets.
Cris Ross, CIO at the Mayo Clinic, said healthcare interoperability is not a "crisis," it's more like a "perpetual rainy day."
Hospital departments are frustrated because they can't get laboratory reports on time, they can't get radiological images or they don't get complete records.
"We have patients who show up today literally with banker boxes full of paper. And, you know, the job gets done," he said. "We're sort of gutting it out."
About 30% of healthcare expenditures are wasted because the industry isn't following best practices and because of duplication of efforts, Ross said.
Shahid Shah, CEO of research firm Netspective Communications, said that even Congress is aware of the problem after a report last week laid blame at the feet of EMR providers and healthcare institutions.
"The report basically in summary said that there are some folks in the healthcare value chain that are actively blocking the sharing of data," Shah said. "This was completely obvious.... Everybody knew that active blockers are there, and we know many of them here," Shah said. "Unless they're named, hopefully this is step one.... That's when we get to reality. Until we get to reality, we can't solve the problem."
Last week, the Office of the National Coordinator for Health Information Technology (ONC) reported to Congress that despite health information exchange technology being fully baked, data is not being shared among providers.
"Current economic and market conditions create business incentives for some persons and entities to exercise control over electronic health information in ways that unreasonably limit its availability and use," the ONC report said.