This health IT glossary provides definitions and information for many terms used in the complex field of healthcare-related information technology and management systems.
Revenue cycle management. Physician practices and hospitals do revenue cycle management (RCM) to maximize their revenue and minimize bad debt. The key elements of RCM are insurance eligibility verification, copayment collection, coding of diagnoses and procedures for billing, claims submission and tracking, payment posting, accounts receivable management, and reporting and benchmarking. Practice management and hospital patient accounting systems are often coupled with third-party solutions for certain RCM functions. Some healthcare organizations outsource RCM, which can expand their resources but is costly and requires them to give up some control. To reduce the amount of bad debt because of the inability to collect from patients who are uninsured or have high deductibles, some hospitals have installed software to locate alternative sources of payment, develop payment plans, and find financial assistance for those unable to pay.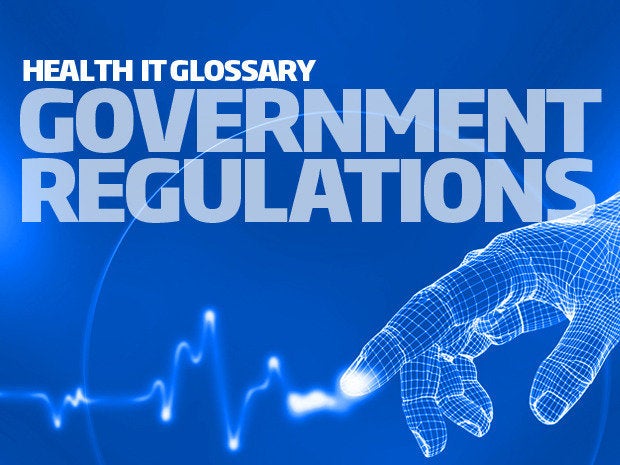 Health IT glossary: Government healthcare regulations
Direct messaging. The Direct Project, a secure clinical messaging protocol based on standard Internet protocols, was devised in 2011 by a private/public consortium. Direct messaging allows providers to push messages with document attachments to other providers. Health information service providers (HISPs), most of them owned or contracted by EHR vendors, handle the transmission of these messages and make sure they get to the right providers at their Direct addresses. Under the 2014 EHR certification rules, vendors are required to include Direct capability in their products so that providers can exchange care summaries. Despite all of these efforts, only a small minority of providers used Direct messaging in the first half of 2015. But a recent survey shows that two-thirds of HIEs are using the protocol for enabling data exchange among their participants.
EHR certification. To qualify for meaningful use incentives, eligible providers must use certified EHRs that have been tested by government-approved certification bodies. The certification criteria have been devised so that users of these EHRs have all of the capabilities needed to show meaningful use. So, like the EHR incentive program, the certification program has grown more complicated and demanding over time. Because many EHR vendors had difficulty in rewriting their applications, CMS allowed providers to use EHRs certified under 2011 rules in 2014, but all of them had to use 2014-edition EHRs in 2015 to qualify for meaningful use. By 2018, everyone will have to use EHRs that have been certified to new standards that will enable them to meet the meaningful use stage 3 requirements.
Fast Healthcare Interoperability Resources (FHIR). FHIR is a new standards framework from Health Level Seven (HL7), the leading healthcare standards development organization. In conjunction with Restful APIs, the Oauth authorization standard, and a visualization layer called SMART, FHIR promises to facilitate interoperability, broaden EHR capabilities, and accelerate innovation in the use of mobile health apps. FHIR uses snippets of data known as resources to represent clinical entities within EHRs in a web services context. Non-proprietary APIs can be used to connect FHIR applications to any FHIR-enabled EHR without customized interfaces. A coalition of 40-plus EHR suppliers and other stakeholders is currently building out and testing FHIR. Eventually, experts say, FHIR should enable providers to exchange discrete data directly between EHRs, using cloud-based networks.
Previous Page 1 2 3 4 5 6 7 8 9 10 11 12 Next Page