This health IT glossary provides definitions and information for many terms used in the complex field of healthcare-related information technology and management systems.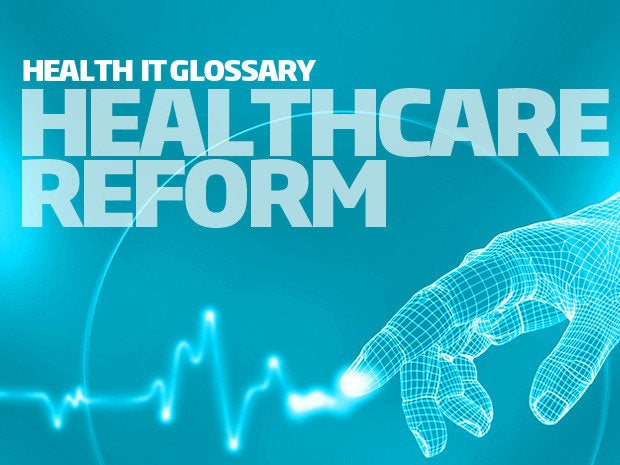 Health IT glossary: Healthcare reform
Automation tools. Automation tools are designed to prompt or execute actions that can contribute to better health. For example, most EHRs have "health maintenance alerts" that pop up in electronic charts when providers see patients, and standalone registries generate more comprehensive alerts. Some registries are combined with clinical protocols to generate automated messaging to patients who are overdue for office visits or tests. Registries can also be used in automated online campaigns to educate people who have specific kinds of chronic diseases. And PHM software populates dashboards that care managers can use to determine which patients most need their help on a daily basis.
Data warehouses. Healthcare systems and accountable care organizations (ACOs) use data warehouses to aggregate, normalize and analyze data from multiple systems. Before healthcare organizations began using business and clinical intelligence tools, few of them had data warehouses. Far more of them do today, but most of these organizations are still doing retrospective analyses that allow some latency in the database. As predictive modeling to forecast the health risks of individuals and populations takes center stage, some organizations are adopting a "late-binding" data warehouse architecture. This approach allows them to assemble data quickly for particular purposes by binding data to business rules on an as-needed basis rather than programming it all beforehand.
Physician performance measurement. In most physician groups, performance was traditionally measured in terms of productivity – either revenue- or RVU-based – that was reflected in each doctor's compensation. But, as healthcare moves from pay for volume to pay for value, healthcare organizations are factoring quality and efficiency into physician pay. So they need financial systems that can not only track RVUs, but can also measure each provider's utilization of resources, including supplies, tests, and staff time. Utilization management is especially important in organizations that are taking financial risk. Today, most programs that measure performance in this way are part of population health management solutions.
Population health management (PHM). Population health management seeks to optimize the health of all patients and to prevent their chronic conditions from worsening. This approach involves the use of care teams, care coordination across care settings, continuous care, patient engagement techniques, care management of the sickest patients, and centralized resource planning. PHM requires the collection, aggregation and analysis of patient data from a variety of sources, some of it in near real time. The antithesis of the episodic "sick care" approach, PHM is essential to organizations that take financial risk for care.
Predictive modeling. Predictive modeling is a type of analytics used to forecast the future health status of individuals and to classify patients by their current health risk (risk stratification). It can also be used to risk-adjust the aggregate health risks of a particular group of patients, such as a physician's patient panel. This is important to healthcare organizations that are negotiating risk contracts, because they want to get paid more for caring for sicker patients. Predictive modeling is used to identify high-risk patients who need care management, to forecast which patients are most likely to incur high costs in the coming year, and to predict which patients are likely to be readmitted to the hospital. Most predictive modeling algorithms are based on claims data, which is the broadest dataset. However, clinical data is more timely and actionable and includes many elements missing from claims data.
Previous Page 1 2 3 4 5 6 7 8 9 10 11 12 Next Page