Hardcore Hardware: The Predator has nothing on the Zeus Pro 640 thermal imager
Thermal imagers that let you visualize heat are awesome tools. Around PCWorld, I use them to visualize hot spots on laptops or hardware I'm testing.
Don't leave the country with it
The second important spec in the Zeus Pro is the refresh rate. Consumer thermal imagers have very low frame rates, which makes videos look choppy and slow. The Zeus Pro I toyed with had a 30Hz refresh rate, or 30 frames per second. An even higher-end version of the Zeus Pro runs at 60Hz, or the all-important 60 frames per second. The higher the refresh rate, the better the image when something is moving fast or you are panning the imager. That's one of the reasons the Zeus Pro can't be sold to anyone outside of the U.S. without approval from the State Department.

The Zeus Pro offers optical and digital magnification from 4x to 32x and features standard 1913 quick release mounts. Credit: Gordon Mah Ung
Thermal imaging can see through smoke
Because thermal imaging sees infrared radiation, it can do things visible-light enhancers can't, such as see through light smoke and fog. Here's an example of a thermal imager seeing through light smoke in a room. For firefighters, such an application would be invaluable.


Thermal imagers can see through light smoke and fog that would stop visible light. Credit: FLIR
The Zeus Pro isn't intended for fire and rescue, however, nor analyzing how hot a CPU gets. It's intended for the military primarily and--believe it or not--commercial hunters.
Armasight officials tell me thermal imagers are very popular with hog hunters, who are hired by farms and agriculture officials to stop wild boars from destroying everything in their path. Wild boars, which are not indigenous to this country, do about $1.5 billion in damage to farms and the environment every year. They also carry disease and parasites which can be easily passed on to humans.
In states where wild pigs are out of control, it's year-round hunting season. When a pack of wild pigs shows up, hunters are called in--and it's even approved to cull them from helicopters.
Wild hogs are nocturnal, so they're hunted in the pitch-black. With a Zeus Pro mounted on a rifle, it's almost unfair.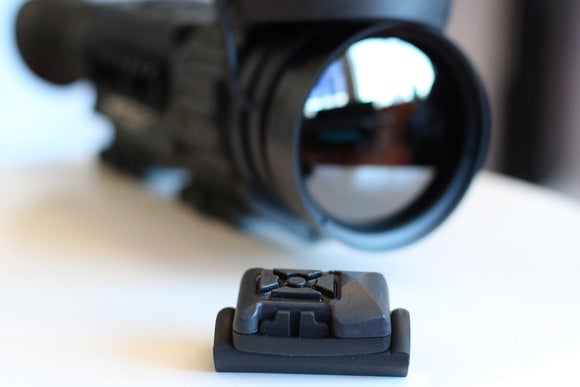 You can use this ruggedized remote to change the settings on the Zeus Pro too. Credit: Gordon Mah Ung
High-tech Zeus Pro
The Zeus Pro is built like a high-tech tank. The internal screen uses an 800x600 OLED panel to display the thermal image, and it features a digital compass and inclinometer. The Zeus Pro can also be connected to your smartphone via Bluetooth to save GPS tracking information. It features a video out, and Armasight offers a ruggedized DVR that mounts to the rail system to record your footage.