Hands On with Windows 8.1: Microsoft's 'do-over' OS is loaded with features
If you already think Windows 8 is a flawed OS, Microsoft's new 8.1 update won't change your mind. But I've been digging into a preview release of the new system since Tuesday afternoon, and it's clear that Microsoft's course-correction efforts have paid off in loads of convenient new features.
Windows 8.1 also adds the ability to share a background between the desktop and Start page. It's a pleasant feature that offers the impression that your desktop and Start page are simply two sides of the same coin. Adding this capability is harder than it looks, though: I had to manually change the desktop background, then wait for it to show up in the "Personalize" tab in the Start commands. A "sync Desktop and Start backgrounds" option would solve the problem, but it isn't there (more on that later).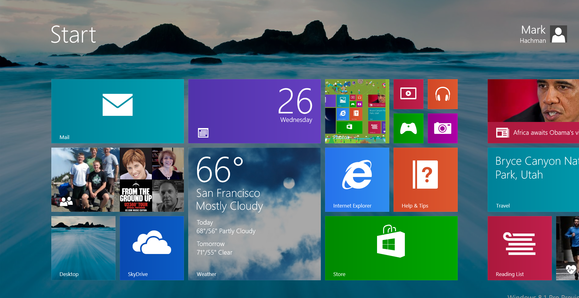 In fact, when I turned off syncing on my personal PC tied to my Microsoft account, the beach background I had on my Windows 8.1 desktop disappeared from my Start screen, but remained as a Personalize desktop option. Clicking it didn't work, and it remained there as an unusable choice.
Another personalization feature is available via the "Change PC Settings" option: You can turn your PC into a photo frame with photos displaying on your lock screen. Unfortunately, I couldn't get that feature to work, and it wouldn't pull my photos from SkyDrive. Windows 8.1 does offer the ability to sync apps, as well as Start screen tiles and layouts, Web browser shortcuts, mouse and printer settings, and more. For right now, however, I'm not sure the sync settings are that useful, especially between Windows 8 and Windows 8.1 devices.
The "Change PC Settings" option also allows you to turn off "hot corner" access to the Charms and recent apps, eliminating one of the more confusing features of Windows 8.
Part of the problem is that Microsoft has hidden its power-user options within the desktop. In Windows 8, pressing the Windows key + "X" brings up a handy menu of commands, including the Control Panel, Device Manager, Disk Manager, and others. Within 8.1, you can access that power-user menu via a "long press" of the Windows flag/Start icon.
But right-clicking the taskbar at the bottom of the desktop brings up the really important stuff. A new "Navigation" tab within the Taskbar and Navigation Properties contains the boot-to-Desktop option; the option to sync the background of the desktop and Start screen; and the option to show the Apps view automatically every time you view the Start screen. These features (and others) are all incredibly useful options, but they're almost impossible to find unless you know what you're looking for.
Smart Search: the command line for Windows?
One major complaint about Windows 8 concerns finding applications: Instead of clicking though a Start menu (as in Windows 7), you have to visually search within a mass of tiles, or key in a search from the Start page. One of the ways Windows 8.1 solves this problem is by organizing your software into an "All Apps" collection that can be accessed by swiping up from the Start page. The list can be organized several different ways, including most frequently used, last accessed and, of course, alphabetically.
Previous Page 1 2 3 4 5 6 Next Page