Hands-on with the VAIO Z Canvas: A quad-core Surface Pro 3 killer
VAIO may have just introduced the fastest Surface clone yet.
Battery life could be a problem
Battery life, VAIO says, will be about 7 hours. But VAIO wouldn't tell us how they arrived at that estimate.
This is a potential pain point for the Canvas. Performance doesn't come free, and running a 45-watt CPU instead of a 15-watt chip could suck that battery dry faster than I go through sugar-free lemonade on a hot July afternoon.
VAIO does take advantage of the thicker body to integrate a 63-watt-hour battery inside, but I fear sub-par battery life thanks to the quad-core CPU, the touchscreen, and the relatively high-resolution panel. We'll see when we get a unit for real-world testing, but the math adds up to be ugly.
No more dongles!
The thicker body also comes in handy for accommodating ports. Nobody likes dongles, much less the prospect of buying another one every time one goes astray. VAIO said there's no need for dongles with the Canvas because it has all the ports on it: Two USB 3.0 ports, an SD card slot, miniDisplayPort, HDMI, and gigabit ethernet.
The perpetual frowny-face crowd will be sad there's no USB-C or Thunderbolt 3, but this is an improvement over the port selection most tablets offer.
One thing that is certainly a disappointment is the use of a standard barrel charger. I didn't see the power brick, but I suspect it's a generic brick. One of the niftiest features of the Surface Pro 3 is its magnetic charging connector that pops off easily without damage to the connection or the cable.
But I can understand why there's no magnetic connector. From conversations I've had with many PC makers, Apple has had a patent lock on magnetic connectors for some time, Microsoft is the only other company that's figured out a way to implement it without getting sued.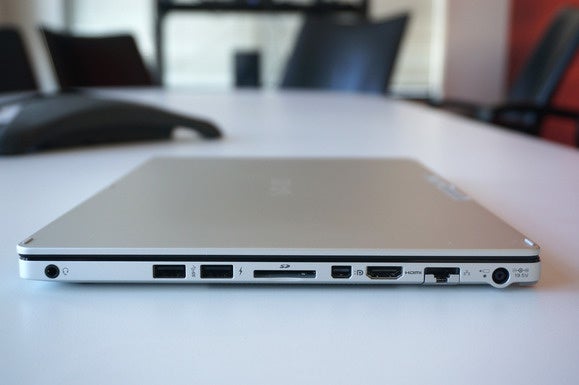 The VAIO Z Canvas features, mini DisplayPort, HDMI, two USB 3.0, and an SD Card reader. Hell, there's even gigabit ethernet!
Other specs—and the price
The thickish chassis enables fairly beefy storage options: From the cutaway image above, you can see there's room for two M.2 SSDs inside. The base option is a single 256GB M.2 SATA SSD. The mid-range configuration gets you a 512GB M.2 PCIe SSD, and the top-end configuration nets you two 512GB M.2 PCIe SSDs for 1TB of storage.
The RAM configurations will also appeal to content creators. The base unit and the mid-range unit both feature 8GB of DDR3, while the high-end unit has 16GB of DDR3. The RAM is soldered to the motherboard, so upgrades are not possible.
Areas where the Surface Pro 3 certainly won't lose: Size and weight. The Canvas is about 11.85 inches wide, 8.4 inches tall, and 0.54 inches thick. The keyboard adds another 0.17 inches to its profile. The Surface Pro 3 is about 0.36 inches thick. With the Type Cover attached, a Surface Pro 3 should be slightly thinner than a Canvas without its keyboard.
Previous Page 1 2 3 4 5 Next Page