Hands-on with the VAIO Z Canvas: A quad-core Surface Pro 3 killer
VAIO may have just introduced the fastest Surface clone yet.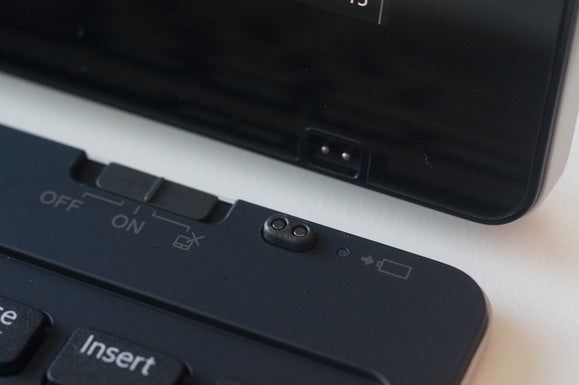 Move over Google Pixel C, VAIO's keyboard uses magnets to connect, too; and it uses a port for automatic charging. Note the switch to turn the trackpad off, too. Credit: Gordon Mah Ung
Yes! A quad-core CPU
The truly impressive engineering feat is fitting a quad-core CPU inside the Canvas. And I don't mean a 2-watt Atom CPU. There's a 45-watt Intel Core i7-4770HQ processor in there. Some will be disappointed this isn't Intel's new Skylake chip, or even a Broadwell quad-core, but the consolation prize is pretty good.
This isn't just any Haswell part, it's the Core i7-4770HQ with Iris Pro 5200 graphics and a fat 128MB L4 cache. It's one of the few Intel GPUs with discrete-level GPU performance—it's strong enough for moderate PC gaming.
This CPU's key limitation is heat: The standard CPU in the Surface Pro 3 (and in most Ultrabook and smaller MacBook Pros) is a 15-watt part. The Core i7-4770HQ inside the VAIO Canvas is a 45-watt part.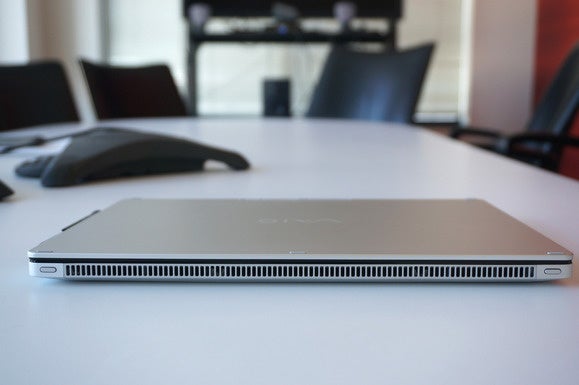 The VAIO Z Canvas has serious vents to keep it from melting down. The button on the left turns off the touch digitizer, but leaves the pen digitizer on. Credit: Gordon Mah Ung
Anyone who's used a Surface Pro 3 can tell you it gets hot and loud after a while, and then it gets slow because it can't shed heat fast enough. So how does the Canvas do it? VAIO said it designed the tablet to use three fans. You can see this in the cutaway, below. Dual heat pipes wick heat from the Core i7-4770HQ to three fans, which exhaust the warm air out the top of the enclosure.
But now the problem is sounding like a 747 on takeoff. To counter excessive fan noise, a phenomenon the Surface Pro 3 sometimes exhibits while just browsing the web, the VAIO team said it designed the fans using blades and rotational speeds that would create noise cancellation. Essentially, the company claims, each fan cancels the noise from the others. Noise is further reduced—and longevity increased—by using fluid dynamic bearings rather than a typical sleeved or ball bearing.
In the brief time I had on the Canvas in the office, I didn't notice the fans spinning up, but I also didn't get to hammer on it. I'm very curious to test VAIO's claims with a lengthy multi-threaded load to see if noise or heat is a dealbreaker. Stay tuned.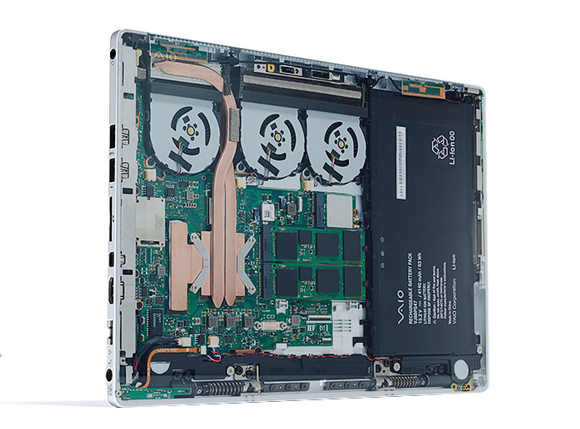 To cool the Canvas's 45-watt CPU, VAIO engineers use three fans designed to cancel each other's noise signature. Credit: VAIO
Previous Page 1 2 3 4 5 Next Page