Hands-on with the VAIO Z Canvas: A quad-core Surface Pro 3 killer
VAIO may have just introduced the fastest Surface clone yet.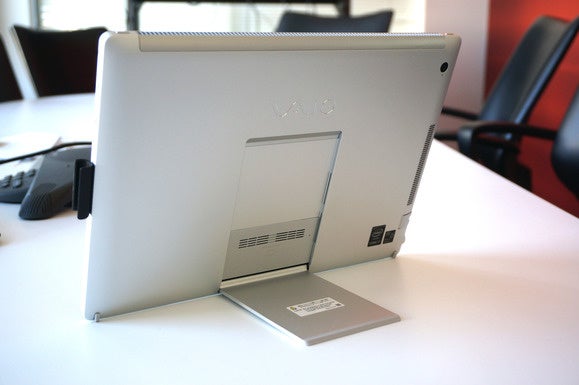 The kickstand on the VAIO Canvas was designed to be stiff only when pushing on the screen. Credit: Gordon Mah Ung
The screen is a 12.3-inch IPS panel with resolution of 2560x1704 pixels, a 3:2 aspect ratio, and a 95-percent Adobe RGB color-gamut rating. The Surface Pro 3 also has a 3:2 aspect ratio.
The Canvas supports touch- and pen input using Sony—yes, Sony—pen technology that offers 1024 levels of pressure. It's not just about the pen, though: VAIO said it took a step in constructing the panel to remove gaps between the various digitizer layers and the LCD, and it tweaked the pen's software to reduce parallax errors. Parallax errors with pens on a typical tablet can make the cursor on the display appear at a different point than where the tip actually is.
Palm rejection is built-in, but VAIO also offers the ultimate palm rejection: the ability to simply switch off the Canvas's touch digitizer while leaving the pen digitizer on—just push a physical button.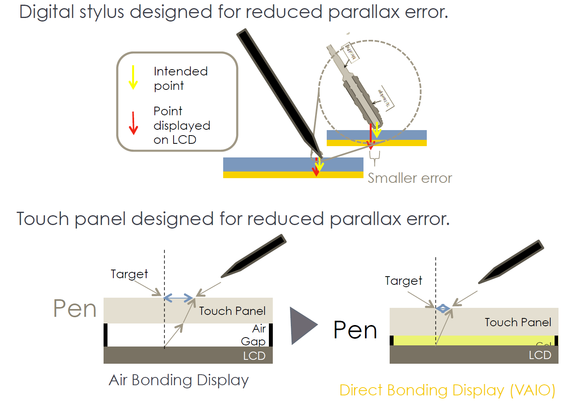 VAIO said it worked to remove parallax errors when using the pen. Credit: VAIO
Why it's not like a Surface
VAIO's pitch for the Canvas is indeed for creative professionals, and that's why the keyboard is unlike the one on the Surface Pro, which must be physically attached to the unit to work. VAIO said that requirement would interfere with a serious artist's needs.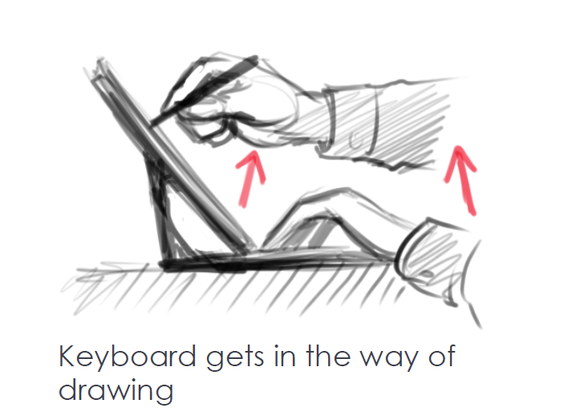 For artists, VAIO said, an attached keyboard interferes with pen usage. Credit: VAIO
When most artists use, say a Wacom Cintiq monitor, according to VAIO, they use the keyboard with their off hand. VAIO emulates that use case with the Canvas by making the keyboard battery-powered and wireless. It's not Bluetooth, either; VAIO said the keyboard relies on proprietary RF technology to increase reliability.

The keyboard on the Canvas is wireless so it be used away from the tablet. Credit: VAIO
That keyboard also features a nifty feature many will recognize from Google's recent Pixel C announcement. The keyboard locks in place on the Canvas using magnets and charges automatically. While the Pixel C uses a nifty inductive charger, the Canvas keyboard uses a nub. But since the VAIO has been on sale in Japan since May, it's VAIO that gets to say "First."
This design shows once again that VAIO's target isn't Surface Pro users. Lapability on the Surface Pro 3 is OK, but it's almost impossible on the Canvas because the keyboard doesn't physically attach to the tablet. The tiny kickstand doesn't help either. If you want to use a Surface-like computer on your lap, look elsewhere.
Previous Page 1 2 3 4 5 Next Page