Hands-on with the new Vaio Z that's flipping different
The new Vaio Z Flip 2-in-1 takes direct aim at the MacBook, offering features Apple's laptops can't touch.
New Z Engine
While I question the battery life on the Vaio Z Canvas given its 45-watt quad-core Haswell CPU, the company thinks it can get 11.5 hours thanks to its new "Z Engine." That's Vaio's fancy way of saying it miniaturized the motherboard in the Z flip to allow for a larger battery. Vaio said it could do this only because the machinery used to make the motherboard is normally reserved for making denser motherboards for smart phones. By using those same machines—the Z Flip is made in Japan—it could make far smaller boards.
Externally, Vaio put some nice touches into the body. The top lid is aluminum, while the bottom is carbon fiber. Vaio also uses an anti-Dorito coating on the keys to fight greasy smudges.
Vaio integrates a touchscreen and its own active stylus with 1,024 levels of pressure sensitivity. The pen is standard, but it'd better be, considering the Vaio Z Flip costs a pretty penny
The base unit with a Core i5, 8GB of RAM and a 256GB SSD starts at $1,799. That's a big step up from a typical 2-in-1 such as HP's Spectre X360, which starts at $899.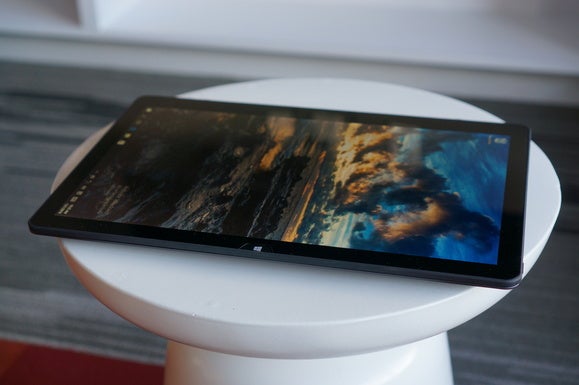 The Vaio Z Flip doesn't force you to paw the keys when in tablet mode. Credit: Gordon Mah Ung
For those who don't want the extra expense of the tablet mode, the company is also offering a clamshell version. It loses the flip touchscreen and pen, but it retains the 28-watt chip for higher performance. Those units will start at $1,499 with 8GB of RAM and a 256GB SSD.