Hands-on with OS X Yosemite: Widgets by any other name
Notification Center gets some major updates in OS X Yosemite. Here's a hands-on look at what's coming.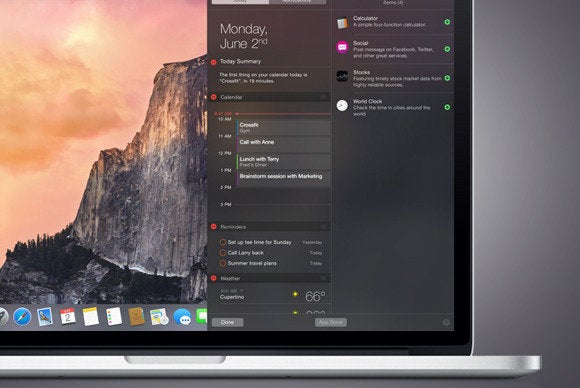 Notification Center has been a part of OS X for two years: It was introduced in Mountain Lion and expanded upon in Mavericks. But with OS X Yosemite, Notification Center transforms into something exponentially more useful than it was before.
I've been using a pre-release version of OS X Yosemite (on a Retina MacBook Pro provided to me by Apple) for the past couple of weeks now, and it's clear from my time spent with Yosemite that Notification Center is so different, and so much more useful than it was, that it probably deserves a new name.
A supply of widgets
But I'm getting ahead of myself. Let's start with the most fundamental of changes: With Yosemite, Notification Center no longer slides a Mac's entire interface off to the left in order to pop out from the right side of the screen. Now, Dock-like, it slides in on top of the right side of your screen while you're using it. The old approach was certainly dramatic, but I think this new one is a better metaphor.
Once Notification Center slides in, you'll notice a major change right there at the very top: As in iOS, there are now two tabs, one called Notifications (that's the one you're already familiar with), and one called Today. The Today tab is where all the exciting new additions to Notification Center live.
Today takes its name from the same tab that was added to iOS 7's Notification Center, because it was designed to give users a quick view of what's going on today, such as how many calendar items they've got and when their next meeting is. That functionality is a part of the Today view in Yosemite, but it's so much more than that.
At the very bottom of the Today view is an Edit button; when you click on it Notification Center slides out even further, adding a second column on the right that's full of items you can add to the Today view. You can also use this view to remove items that are currently in the Today view or re-order them. These items are Notification Center Widgets, which are being added to both Yosemite and iOS 8.
Apple provided nine widgets with the release of Yosemite I was using: Today summarizes what's happening today in your schedule, as it does on iOS 7, and Tomorrow does likewise for the next day. Weather displays current temperatures and forecasts. Reminders shows you timely items from the Reminders app. Calculator lets you do addition and multiplication and other basic mathy things. Social lets you post to Facebook or Twitter, or send text via Messages. World Clock shows the time in various cities. Calendar displays today's calendar items. And Stocks shows time-delayed stock prices.