Hands on with Microsoft Band: It's awkward and inaccurate, but stuffed with features
It's uncomfortable to wear, and its heart-rate data is inconsistent. But for just US$200, the Microsoft Band is stuffed with more sensors than any other wearable available.
I've never worn an ankle bracelet like the one Lindsay Lohan had to wear while under house arrest. But after two days testing the Microsoft Band, I think I may have an idea of how constricting and confining those electronic monitors might be.
The Microsoft Band is uncomfortable to wear, and its heart-rate tracking, a marquee feature, doesn't hold up to real-world testing. It's a shame my first impressions are so negative, because with built-in GPS, a UV sensor, skin temperature and perspiration sensors, and a broad set of smartwatch-style notifications, the Microsoft Band promises a lot of cool features for $200.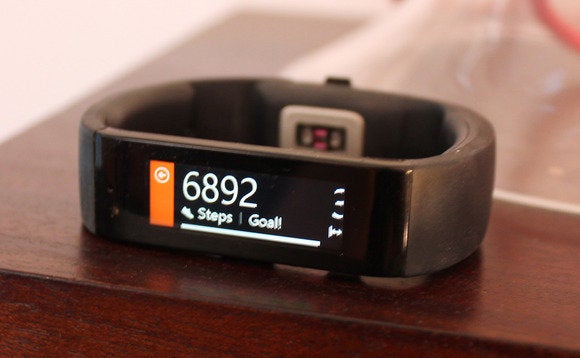 JON PHILLIPS.Friends will see the beautiful display-if you wear the band on the outside of your wrist, like a watch.
Release the shackles!
Where the best wrist wearables are pliable and unobtrusive, the Microsoft Band is bulky and rigid, and never lets you forget you have it on. Sure, it's physically large relative to competing fitness bands like the Jawbone UP24, Runtastic Orbit, and Samsung Gear Fit. But the bigger problem is its broad, inflexible display face. Factoring in the bezel around the display, it measures more than two inches long. It's also straight as a board. A more comfortable chassis would follow the gentle curves of human anatomy.
The upshot is the Microsoft Band never melts away into the background like a proper wearable. During testing, I always felt that something was on my wrist, especially when I banged the band on table tops, or got it caught on shirtsleeves. It's omnipresent in the worst way possible.

JON PHILLIPS. There's nothing beautiful about the Microsoft Band clasp, which is what the world will see if you position the display on the underside of your wrist.
The Microsoft Band is unique in that you can wear it on either wrist--all other wearables are designed for your non-dominant wrist. It can also be worn on the inside of your wrist. These options are nice, but I never found a comfortable position.
In fact, the band felt most awkward--sort of like a handcuff--when I wore it on the inside of my dominant wrist. Every flex of my forearm reminded me that I was shackled to Microsoft's ambitious new Health platform. This position also hides the Microsoft Band's attractive 320x106 display, and instead shows the world its unglamorous clasping mechanism. Just look at the photo above. It looks like something designed by Raytheon, not a company interested in aesthetics.
The chase for accurate heart-rate data