Hands on with Marvel's new subscription comics app
With Saturday's release of the new Marvel Unlimited iOS app (an Android app is forthcoming), Marvel's subscription comic service has a new name and a home on mobile devices at last. Jason Snell goes hands-on.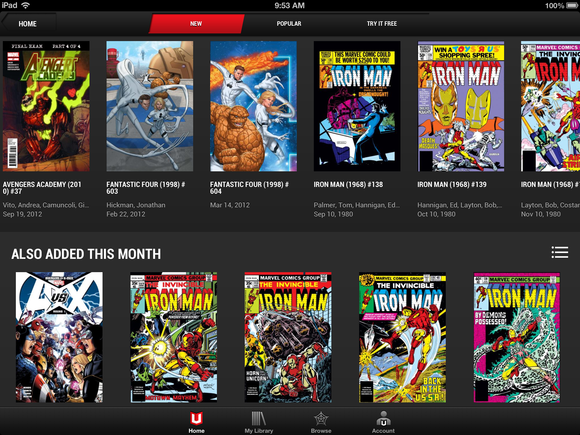 If you don't care about the present day stuff--say you're a comics fan from way back, but haven't bought comics in years--Unlimited may actually be a better deal. You won't be able to participate in breathless discussions about this week's revelations, but you'll have access to a nearly endless supply of older comics, including Marvel events such as House of M, Civil War, Secret Invasion, and World War Hulk.
More from Marvel
The Marvel Unlimited app release, set to coincide with the annual South by Southwest Interactive conference, wasn't Marvel's only news of the weekend. The company also announced a weekly regular series of Infinite Comics (its brand-name for comics designed specifically for tablets, not paper), kicking off with a Wolverine miniseries. And it offered 700 free first issues via the Marvel and Comixology apps, a move so popular it took down the Comixology server. There's also a new weekly YouTube show called "Earth's Mightiest Show."
And then there's one minor note that didn't go unnoticed by comics fans. The release of the Marvel Unlimited app coincides with the service's name change. Previously it was called Marvel Digital Comics Unlimited. Comic fans must be amused that after several years, Marvel has finally excised the "DC"--the name of its arch-competitor--from its product name.
Previous Page 1 2 3