Hands on with Marvel's new subscription comics app
With Saturday's release of the new Marvel Unlimited iOS app (an Android app is forthcoming), Marvel's subscription comic service has a new name and a home on mobile devices at last. Jason Snell goes hands-on.
And of course, there are holes in the archive itself: In browsing the issues of my youth, I found long runs of issues, followed by strange gaps.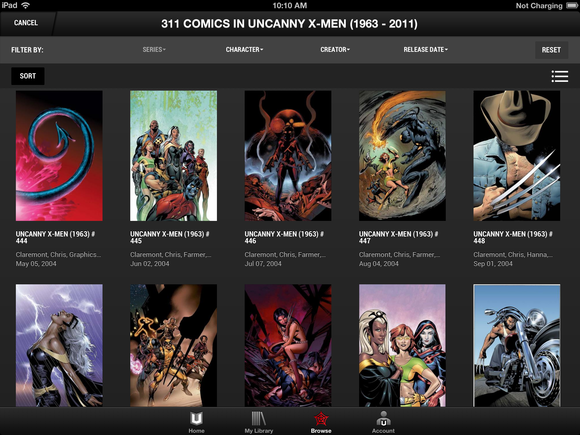 Phillips admits that there are gaps, and says it's a top priority for Marvel. "In an average week, we add a hybrid of newer and back-issue content," he said. "We're constantly building that up. Filling gaps is a huge priority."
Once you're reading an issue, the native app interface falls away and you're in Marvel's HTML-based reader. (This will undoubtedly make it easier for Marvel to deploy Unlimited across iOS, Android, and other platforms, since the comics-reading part is essentially a webpage.) It works well enough, though it's not as responsive as the reader in the Marvel and Comixology apps. When you swipe to move to the next page, there's no animation, for example. Pinching to zoom can be laggy, and two-page spreads appear awkwardly on the top half of the screen.
There are some bugs, too. If you tap on the left or right side of the screen to change pages, an arrow button appears--and won't go away until you tap once to bring up all the navigation buttons, and then tap again to dismiss them. Even more annoying is the presence of a title bar above the issue, telling you which issue you're currently reading. Any tablet-based comic reader should have a full-screen mode--every extra pixel you can devote to reading the comic page, the better the reading experience is--and Marvel Unlimited fails this test.
There's a nifty offline-reading feature, though. Though I keep comparing Marvel Unlimited to Netflix, that video service doesn't let me cache movies to watch when I'm on an airplane. But Marvel Unlimited lets you save up to six issues at a time for offline reading. That's a little bit skimpy for an flight, but it's more than enough for a morning commute.
Subscription or single issues?
So if you're a Marvel comics fan, which should you use, the Marvel (or Comixology) apps, or the new Marvel Unlimited app. Marvel's Phillips unsurprisingly "encourages the comics fan to have both." In reality, though, it's not an either-or proposition. Here comes that Netflix analogy again: I subscribe to Netflix for its deep catalog, but I also rent hot new releases on iTunes and buy Blu-Rays.
If you want the latest stuff--say Marvel's "Age of Ultron," which debuted last week--you'll be paying $3 or $4 per issue via the Marvel or Comixology apps. If you can wait a month or two, those apps will usually offer you the same comic for $2.