Hands on with Facebook Home and the HTC First smartphone
At first glance, Facebook Home and the HTC First look like good bets for social butterflies, but power users and those who don't like 24/7 connectivity may opt out.
This smartphone is made of a soft-touch material that makes it comfortable to hold, and its slim and lightweight design should make it easy to fit into virtually any pocket.
The First has a 4.3-inch, 720-pixel display and runs on Android 4.1.2 (Jelly Bean). Even though the phone puts Facebook right up in your face, you can still access Google apps and features like Gmail, Maps, and Google Now.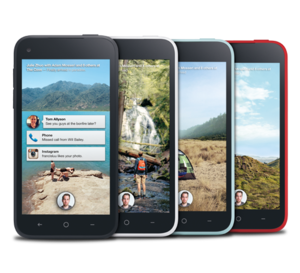 The HTC First will come in four colors.
Jumping among apps--the official Facebook app, Facebook Messages, the camera app, and the Chrome browser--happened without much issue. I was surprised by how smoothly some of these Facebook apps ran on the phone and by the overall performance of Facebook Home.
The First has a 5-megapixel main camera and a front-facing camera for when you need to take a new Facebook photo.
It was hard to judge the camera's picture quality based on photos taken in Facebook's overtly blue demo room, but it's probably safe to say that it won't be outclassing the cameras in the iPhone 5 or the Nokia Lumia 920 anytime soon.
I reached out to HTC for more information about the phone, and I'll update this post as soon as I find out more.
Gut impressions
With my limited time with each, I'd say that Facebook Home shows some promise but, right now, it's nothing more than a pretty face. You still need the Facebook app to make most things work, and the limited nature of the launcher means it won't appeal to power users or people who don't want to be connected 24/7.
And, the HTC First doesn't seem to have much going for it outside of its close Facebook integration. Priced at $99.99, it will be competing with more fleshed-out offerings like Apple's iPhone 4S.
Both HTC and AT&T will need to play up the Facebook aspect in order to make the First stand out from other budget handsets.
My evaluations are based on a quick test at the Facebook event with a provided phone. I'll give you my full thoughts on the phone (and on Facebook Home) when I get an HTC First in the TechHive offices for review.