Hands on with Apple CarPlay and Android Auto in the 2015 Hyundai Sonata
Plug your phone into the car and enjoy phone, navigation, messaging and more. That's the idea behind Apple CarPlay and Android Auto (in beta), and we tried both at the LA Auto Show.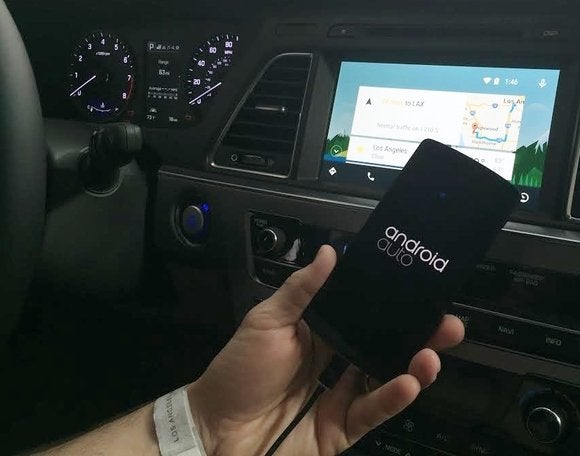 LOS ANGELES--I went to the LA Auto Show in search of Android Auto and Apple CarPlay, Google and Apple's bids to bring your smartphone's screen to your car. CarPlay's so far appeared only in a Ferrari and a Pioneer aftermarket line, while AndroidAuto is still in beta. Still, at a small Hyundai booth in the South Hall, two separate 2015 Hyundai Sonatas demonstrated the technologies. No other automakers were showing them.
Apple CarPlay: Siri makes it smoother
In the CarPlay-equipped Sonata, the Apple rep plugged in her iPhone 6 Plus and showed me how Hyundai has integrated CarPlay into the automaker's own BlueLink infotainment system. A small icon for "CarPlay" appears at the bottom of the main screen, which you tap to enter CarPlay.
CarPlay looks a lot like your iPhone's home screen, minus all the extraneous, not-car-friendly apps, of course. On the left side of the touchscreen there's a small bar that shows the time, your phone's signal strength, and the Home button, which looks like the Home buttons of older iPhones. The rest of the screen is dominated by apps, which appear the same as they do on the iPhone, just larger. Each screen holds eight apps, and you can swipe to the left to see more apps.
Apple has optimized iOS 7.1 (and higher) for CarPlay. When your iPhone is plugged into the car, phone-based tasks run a little smoother. For example, when you tap the phone icon, Siri asks you who you want to call right away. "We figured that you wouldn't be tapping the phone icon unless you wanted to use the phone," the rep tells me. "So you don't have to go through a litany of commands every time." To talk to Siri via CarPlay, you can either tap and hold the Home button on the touchscreen (like you'd do on your phone), or you can tap the voice button on the Sonata's steering wheel. It was noticeably easier than other in-car voice systems I'd tried.
Apple has also optimized its maps program to scour your emails and texts for important addresses. When you open up the Maps app on CarPlay, you'll see a list of places you might potentially want to go, such as offices, people's homes, and restaurants. According to the rep, Apple makes sure to pick out addresses only from people who are in your contacts list, so you won't end up with addresses to random stores in promotional mailings, for instance.
While your iPhone is connected to the car, it won't light up unless you want it to. The default screen is black, but if you tap the phone accidentally, you'll see a mirror of what's showing on the touchscreen. You can also bypass this screen and start using the phone to its full extent, but Apple doesn't recommend that. Still, the rep tells me that ultimately they figured it was safer not to lock people out of their phones, lest they get frustrated and stop using CarPlay altogether.