Hands-on with Alienware's water-cooled, Skylake-packing X51 microtower
Alienware is back with an updated version of its microtower that kicked off the revolution.
The good news is, Alienware officials say the unit supports booting from a PCIe-based M.2 SSD and there will be an option so, um, I was right after all.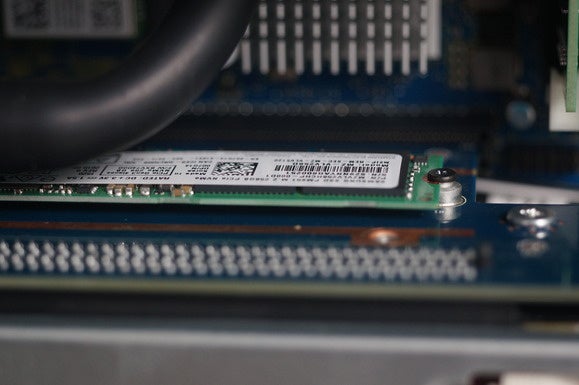 The Alienware X51 R3 features Samsung's PM851 M.2 SSD. Credit: Gordon Mah Ung
Another change that may or may not make people happy is the death of the optical drive. Alienware nixed the slot-fed drive to make room for the liquid cooler. For those who don't use an optical drive, it's no big deal. For those who also used their X51 for a Blu-ray player in the living room, you'll have to run an external unit.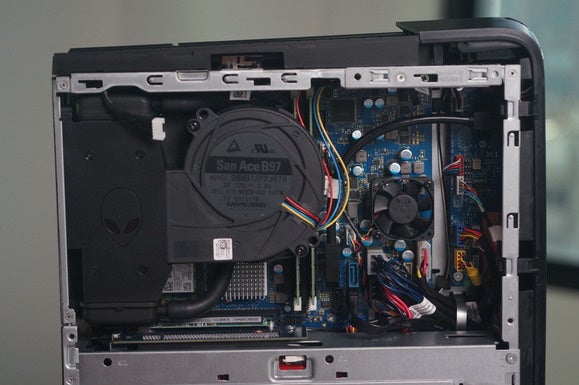 Alienware did away with the slot-fed optical drive. Credit: Gordon Mah Ung
It's nice to have the overclocked Skylake chip, but gaming today is still mostly in the territory of the GPU. As with the previous unit, the X51 tops out with a GeForce GTX 960. That's the top card Alienware sells, but the company says a GeForce GTX 970 will work if you use the stumpy version of the card. The limitation is mostly size but also power. Like the previous two versions, the X51 runs on a single 330-watt external power brick.
So what's an X51 owner to do? Use this port: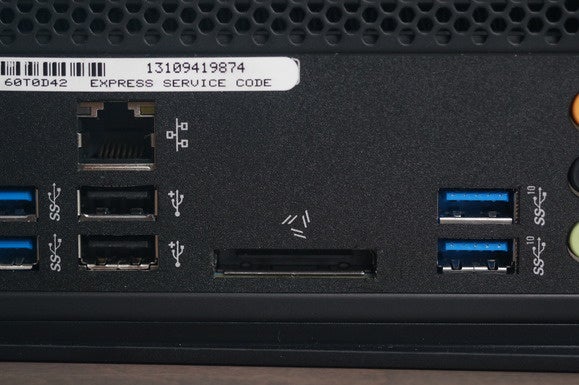 The third-gen X51 now features support for Alienware's Graphics Amplifier. Credit: Gordon Mah Ung
With the third-gen X51, Alienware has added support for the Graphics Amplifier that I reviewed. With its larger power supply, you can run up to a GeForce Titan X in the Graphics Amplifier with the X51.
I'm not sure this makes sense for everyone, as it's not very portable, but I like the option. I frankly see no reason not to include a Graphics Amplifier port on everything Alienware makes, short of its full desktop tower. Why not add the support into the Alienware Alpha too? With the cost of the Graphics Amplfiier down to $200, it's really not a bad alternative for someone who wants a little extra oomph but is afraid to crack the case open for an upgrade—or is simply unable to do an upgrade due to the physical constraints of the box.
This isn't quite optimal, though. For someone who buys into the micro-tower form factor, wouldn't it just be better to have a unit that can take a beefier GPU from the get-go?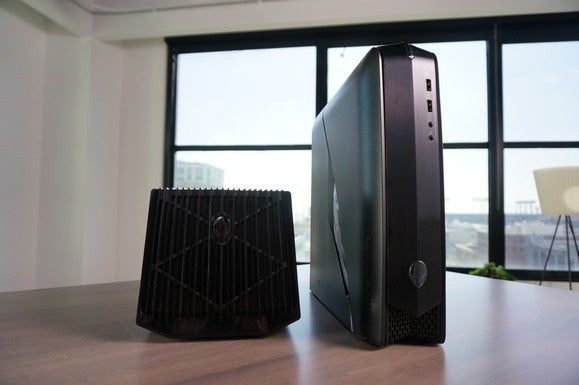 Here's what the Alienware X51 R3 looks like next to its Graphics Amplifier with a GeForce Titan X inside.