Hands-on: Windows 10's latest build feels close to finished
With just a month left until Windows 10's public launch, Microsoft's next OS seems on track for completion.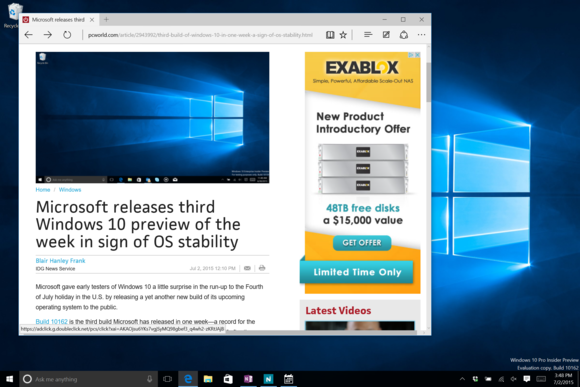 It has been quite a week for Windows 10. In the past four days, Microsoft has released three preview builds of its upcoming operating system, and the company plans to keep serving up hot new bits to testers in rapid-fire style in the run-up to the OS's launch on July 29.
After spending a few days with the latest builds, it's easy to see why Microsoft is increasing its pace of releases, and it's also easy to see why the Windows Insider Program is needed. Build 10162 (released on Thursday) feels like the most stable and responsive version of the operating system that Microsoft has shipped to date. With less than a month to go until Microsoft starts rolling out Windows 10 to the public, it's a sign that end users who haven't taken part in the Windows Insider Program will have a fairly complete operating system to use at launch.
That said, I spent the better part of Tuesday night trying to get my Surface Pro 3 to update to the latest build of Windows 10, without any luck. I wasn't alone: There's a whole cadre of beta testers from the Windows Insider Program's Fast ring who can't get one of the builds. My Surface managed to pick up the update on Wednesday morning (for reasons I don't understand) and I've now made it onto the build Microsoft released Thursday.
Aside from those Windows Update-inflicted issues, though, it seems to be reasonably stable. Microsoft's efforts at bug smashing are bearing fruit as well: My Surface no longer makes an annoying popping noise while it's sleeping, for example. Here's the rundown on what it's like to use this week's builds.
What's new
Leading up to this week, Windows 10 was fairly complete, featurewise. There were a few obvious holes, and it seems like Microsoft has filled them in with this past week of patches.
Microsoft Edge has finally emerged from its Project Spartan-labeled chrysalis into something that basically resembles a full-fledged browser. The lowercase "e" icon that now stands for Edge will be instantly familiar to anyone who has used Internet Explorer, though that similarity actually belies a rendering engine that has been rebuilt from the ground up. Internet Explorer 11, which is still included with Windows 10 for sites that work better with the older browser, suggests people try Edge the first time they open it.
People who used the browser when it was called Project Spartan won't notice a whole lot new with this newly branded iteration. Edge still features the same clean design that it sported as Project Spartan, though it now has a new menu for sharing Web pages along with a handful of other new features. It's still missing support for extensions, but Microsoft has said in the past that those won't be available until after Windows 10 launches.