Hands on: The new HTC Vive Pre adds a Matrix-like front camera in its new redesign
Any guesses as to what all this will cost? HTC isn't saying.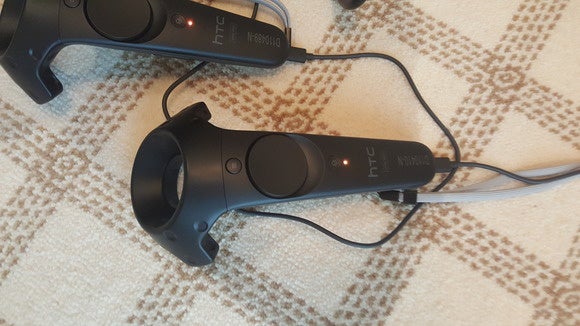 The redesigned HTC Vive Pre controllers now have four hours of battery life. Credit: Mark Hachman
Subjectively, the Vive's resolution appeared to me to be on par with the Microsoft Hololens, with perhaps some more detail. As you might expect, the Vive was far more immersive—the Hololens is marketed as augmented reality, and has a narrow field of view. I was completely unaware of my physical surroundings until I bumped into someone or they tapped me on the shoulder.
There's no real indication, yet, how the camera will be put to use, but we can guess. It's possible that a developer could in fact harness the Vive's physical camera to enable a Hololens-like augmented reality mode. At this stage, though, there just wasn't enough clarity or detail to allow it to happen. But there was just enough resolution, combined with the Vive camera's ghostly blue light, for me to hope that some developer ships a "ghostbuster" app. It's made for it.