Hands-on: Pebble gets a boost with lower price and new firmware
Pebble hasn't flinched as it faces down Android Wear and the upcoming Apple Watch.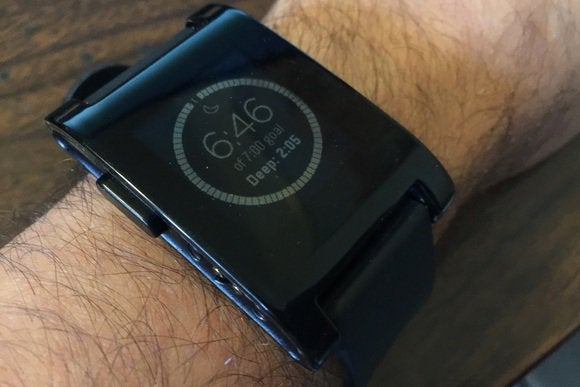 Pebble hasn't flinched as it faces down Android Wear and the upcoming Apple Watch.
Instead, the smartwatch startup has shown its scrapper side with lower prices and further refinements to its software. The plastic Pebble now costs $99, while the metallic Pebble Steel costs $199--both down $50 from their original prices. (Best Buy is currently selling the Steel for $170.)
To coincide with the price cuts, Pebble is releasing its second firmware update in less than a month, allowing the watch to track fitness activity and monitor sleep in the background. Between the improved firmware and the lower prices, Pebble has become a solid smartwatch on the cheap.
Sleeping and walking with Pebble
To test out Pebble's sleep monitoring features, I installed the new Misfit app, which also counts your steps and converts them into a general activity score. It's a little confusing at first, as the app doesn't have a specific sleep mode that you turn on, but that didn't stop Misfit from counting the hours as I snoozed. It seemed fairly accurate, even adding a few more minutes to my total in the morning as I caught a few extended Zs.
Jawbone's new Up app is also impressive in that it's actually a watchface. That means you can quickly switch between Up and your other watchfaces by pressing the Pebble's side buttons, and it'll continue to count your steps. It can even detect when you've been sitting for too long, and remind you to walk around. The app includes a few different watch faces, which you can select from the Pebble smartphone app.

JARED NEWMAN. The Jawbone Up watchface has a step counter built in.
The only downside is that you can't give background privileges to more than one app at a time, so you'll need to switch if you have different step- and sleep-tracking services. But Pebble makes it fairly easy to switch, throwing up an option screen when you try to open a different background app. I haven't tested the impact on battery life with these background functions, but Pebble told BuzzFeed that they'll knock about a half-day off the watch's 7-day charge. (In my experience, however, the Pebble usually lasts three or four days, tops.)
Faster app access, finally
One of my biggest earlier gripes with Pebble was how it put your third-party apps all the way at the bottom of the main launcher, making them needlessly difficult to access. A June firmware update alleviated the situation by letting you rearrange the launcher, but even moving your favorite apps to the top slot requires a few button presses to reach them.