Hands on: Microsoft's Project Spartan browser starts small in Windows 10 preview
Debuting in Windows 10 Build 10049, Spartan's in its early stages, but we can see hints of what's to come in the interface, as well as the engine.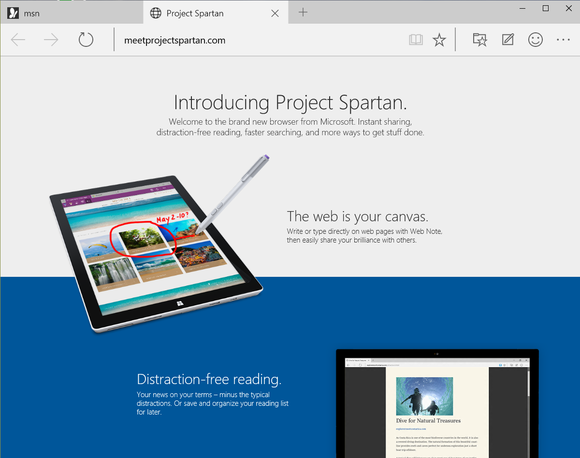 Microsoft's latest browser, Project Spartan, is keeping its promise so far. On Monday night it became available as the main draw of Build 10049 of Windows 10, which went out to the "Fast" ring of the Windows 10 testers, In our hands-on, it's definitely lightweight--if only because there isn't much there yet at this early stage.
Spartan offers several improvements over Internet Explorer: lightweight browsing; support for plugins; the ability to mark up a Web page, scrawling comments using digital ink; a new reading mode; and the integration of Cortana, who serves as a personal assistant while browsing.
All of these save Cortana have been integrated in the new build. Technically Cortana is there as well; however, the assistant isn't really dynamic, and only appears when you right-click a particular term or group of words. Then, a column appears on the right hand of the screen, where Cortana makes suggestions.
Why this matters: Project Spartan is Microsoft's bid to bring back users who learned to detest Internet Explorer. And it's not just a numbers game: Every returning set of eyeballs gives Microsoft another chance to serve the Web through its own prism.
This. Is. Spartan!
Windows 10 will ship with both Spartan (reportedly set to be rebranded as something else) and IE11 both. Over time, however, Internet Explorer will fade away, and is really only there to serve the needs of "legacy" Web sites. Spartan was designed as the next-gen "modern" browser.
Spartan, as its name might suggest, is sparse: no muss, no fuss, there just to get the job done. Although Project Spartan appears in the list of apps after you download and install the new build, you can also identify it in the the toolbar as the little blue globe. It's a lengthy process: You'll need to download, install, then "reinstall" the software using the new UI that appeared in the recent Build 10041 update of Windows 10.
Once installed, however, the Spartan Web browser is there for you to dig into. Spartan appears to tap into the bookmarks you've already set for Internet Explorer, so that portion is set up for you.
Aesthetically--and this is a personal preference--Spartan feels, well, a bit too spartan. The entire top of the browser is a monochromatic array of icons and text. I'd like a small splash of color to liven up the place and provide some visual cues. You'll find that elsewhere--the bookmarks column to the right, for example--but it's a bit off-putting.
At this point, not all of Spartan's features have been implemented. On the top row of the browser, separated by a divider, are icons that allows you to set and review reading lists" of articles to be saved later, as well as downloads. Those are coming later.