Google's next hardware push: Chromebox videoconferencing for businesses
Google launches a $999 videoconferencing system, Chromebox for meetings, designed to use Google Hangouts to connect employees.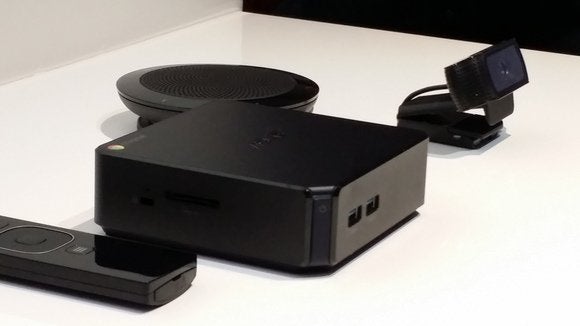 First there was the Chromebook, then the Chromebox. Now, Google has added a $999 videoconferencing package that combines a Chromebox and a video camera to enable inexpensive videoconferencing for businesses.
At this point, Google is just calling the system "Chromebox for meetings." Caesar Sengupta, vice president of product management for Google, said that the system was designed and is used internally at Google. "We've found that this works quite well for Google, and we're happy to bring this to other companies," he said.
Gilt Group, Eventbrite, and Woolworths UK have all trialed Chromebox for meetings, Google said.
The system includes four components: a new, more powerful Chromebox, based on the Intel Core i7; a 1080p HD camera module; a combination microphone/speaker; and an RF remote control. Samsung's existing Chromebox uses a Core i5 chip; the new Chromeboxes, from Asus and Hewlett-Packard, were necessary to permit the multiple, simultaneous HD streams that the new system enables--up to 15.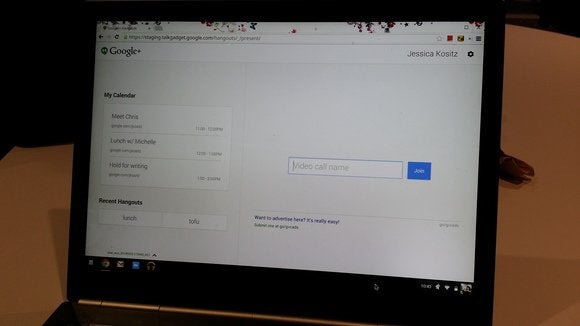 MARK HACHMAN.Chromebox for meetings lets you videoconference without wires.
Essentially, Google has taken the low-cost, minimalistic approach of Chromebook hardware and applied it to the market for unified communications. Although low-cost, face-to-face videoconferencing options are available--Google's Hangouts, Microsoft's Skype, and Apple's FaceTime among them--stepping up to a unified videoconferencing system can run into the thousands of dollars, depending on how much a business is willing to pay.
Naturally, the new system is designed to work with Google apps and services, including Hangouts, Google Calendar, Gmail, and others. (Google is also working on a simple extension for Exchange, Sengupta said.) Users who walk into the conference room can click the remote once to be joined to the conference, without needing to enter a username or password. Within the interface, users can type in the name of the conference they wish to join, using some sort of identifying name. The initial screen also displays a subset of the user's calendar, as well as recent Hangouts. Google+ is prominently displayed in the upper left.
Once joined to the conference, participants will see a Hangouts-style interface, according to a demonstration by a Google representative. Users will also be able to type in a special URL, g.co/present, which will allow participants to "volunteer" to share their screen. The participant will then be able to open a Google app in a separate tab and launch a presentation, for example.
A Google representative said that each Google system (what Google refers to as a "meeting room" will include its own management account, that users will be able to connect to and "schedule" a meeting on their own calendars.