Google's Daydream VR initiative: What it is, what it isn't
Google's going big into VR this year with Daydream, but it's not a single device. It's a spec, it's a controller, it's a standard.
It requires Google's VR controller
Google has a special custom VR controller. It can sense its motion and orientation, it has a clickable touchpad, and sports two buttons—one to be used by apps, and one reserved by Google for system functions (like returning you to the Daydream Home environment).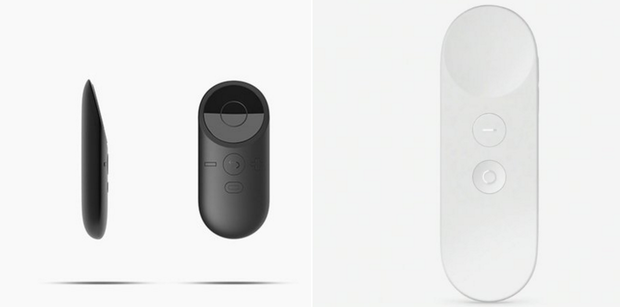 The Daydream controller (right) looks a lot like the Oculus controller (left), only it can sense its orientation and movement.
Google says using Daydream will require the presence of this Apple-TV-remote-looking controller. If you don't have one, you can't enter VR. The goal is simple: Give users a simple means of interacting with the VR world, and give developers a controller spec they know they can rely on.
It probably won't work on today's phones
Will any of today's phones be declared "Daydream ready" with an update to Android N? Probably not. We've seen and heard no indication that any current phone will fit the bill, but rather that several Daydream-ready phones will hit the market this fall.
It's a suite of apps
Put on a headset with a Daydream-compatible phone in it, and you're standing in a cartoonish forest with giant floating content windows. That's Daydream Home, where you'll launch apps and VR video and get promotions for new content. Browse Google Play's custom VR store. Check out some videos using the custom VR YouTube interface.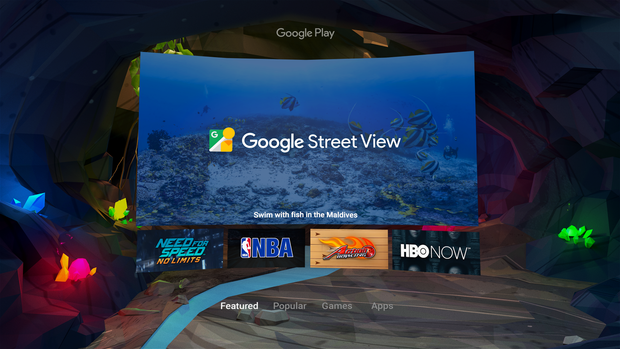 This is the Play Store in VR. Browse, buy, download, all without removing your headset.
And if you don't have your headset around, you can browse content on a flat Daydream mobile app, so you can download stuff on the go and have it ready when you get back to your headset.
It's still your phone
Just because you're using your phone in a VR headset doesn't mean it stops being your phone. Google has ported some parts of the system UI into VR. So if you get a call or a text, it's rendered into the VR world and you can respond. Though it wasn't explicitly mentioned, I have a feeling that all "high-priority" notifications will show up. But wouldn't it be cool if you could converse with the Google Assistant in VR?
It's not the death of Cardboard
The Daydream-ready spec for phones is going to be high-end. The controller and headset will cost extra. The platform is built into Android N. That leaves out hundreds of millions of Android phones! Cardboard delivers a far worse experience, and one could even make the argument that it's not capable of delivering the sense of "presence" required for true VR. But it works with nearly any recent phone (including iPhones). And you can get Cardboard headsets for less than $20. Hell, they're sometimes given away free.
Besides, Google has a serious problem letting go of anything. Expect Cardboard to stick around for at least a couple more years.