Google's Daydream VR initiative: What it is, what it isn't
Google's going big into VR this year with Daydream, but it's not a single device. It's a spec, it's a controller, it's a standard.
Google is a big believer in virtual reality. It tried to get VR in front of as many people as possible with Cardboard, its spec for ultra low-cost headsets that use your phone to provide a pseudo-VR experience.
This fall, with the release of Android N, Google will bring us Daydream. That's the name for it's VR initiative, and it's a little complicated. Daydream is not just a VR headset made by Google. It's not just an app. It's an entire ecosystem that includes hardware specs, a new interface, a controller, and developer tools. Here's what Daydream is, and what it's not.
It's not a stand-alone Google headset
If you're expecting Google to make a competitor to the Oculus Rift or HTC Vive, you're going to be disappointed. Daydream is powered by your phone, like GearVR or Cardboard, and there will be multiple headsets made by Google and its partners. Expect Daydream stuff from Huawei, HTC, Samsung, LG, etc.
It's a set of standards and specs
Not all phones will be Daydream compatible. Future phones (available starting this fall) will be considered Daydream-ready if they meet certain requirements: a high-power SoC that can provide a quality experience at 60 frames per second, a low-persistence display (read: OLED only), low-latency, and high-quality sensors are all required for certification.
The goal is to ensure that every "Daydream-ready" phone can deliver motion-to-photon latency of 20ms or less, and that developers making VR experiences know exactly how much horsepower they have to work with.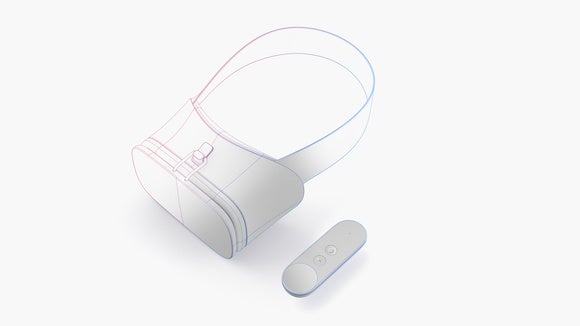 There's no one Daydream headset. Google will make one, but release specs for its partners to make their own.
Google is releasing a reference spec for the standard Daydream headset (the thing you mount your phone into), similar to what it does for Cardboard. (Daydream headsets will probably be much higher quality, though.)
It's not 90 frames per second
Many people have argued that VR displays have to update at a minimum of 90 frames per second in order to minimize motion sickness. Some call for even higher refresh rates. The spec for Daydream is 60 frames per second.


One big difference between Oculus Rift or Vive and Daydream? The former run at 90fps, the latter only 60fps.
Is that a nonstarter? Not necessarily. GearVR is 60 frames per second and works rather well, in the right experiences. Ensuring a steady 60fps and very low motion-to-photon latency is going to be critical, however.
It's part of Android N
Daydream is baked into Android N. The Daydream home screen (which looks a lot like Oculus' home or GearVR's home) is built right in on all Daydream-compatible phones. All the APIs, the low-latency and low-persistence VR Mode, the head-tracking algorithms, the developer tools...it's all in Android N, rather than an app you download (like Cardboard). So don't expect any Daydream stuff for general consumers until Android N rolls out this fall. And you can forget about it working on iPhone, like Cardboard does.