Google's autonomous car is truly hands-off -- there's no steering wheel
Company builds self-driving car prototype that also has no accelerator pedal and no brake.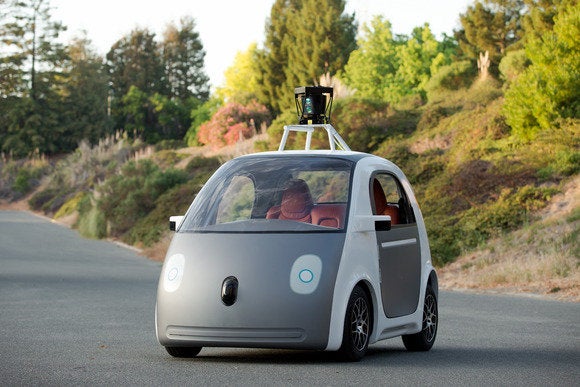 After working on developing a self-driving car for several years, Google has built an autonomous car from the ground up -- with no steering wheel, no accelerator and no brake.
"Ever since we started the Google self-driving car project, we've been working toward the goal of vehicles that can shoulder the entire burden of driving," wrote Chris Urmson, director of Google's Self-Driving Car Project in a blog post. "Just imagine: Seniors can keep their freedom even if they can't keep their car keys. And drunk and distracted driving? History."
He said Google is building prototypes of a new kind of self-driving car - one that can't be driven by people. That means passengers couldn't take over and drive the car if they wanted to or if the car was making them nervous.
"They won't have a steering wheel, accelerator pedal, or brake pedal... because they don't need them," wrote Urmson. "Our software and sensors do all the work. The vehicles will be very basic. We want to learn from them and adapt them as quickly as possible, but they will take you where you want to go at the push of a button. And that's an important step toward improving road safety and transforming mobility for millions of people."
It's no surprise that Google would like to take people out of the driver's seat with autonomous cars.
Last month, the company reported that it had taken on a new challenge. Google was taking its self-driving cars out on to city streets, tackling a more challenging driving environment muddled with jaywalking pedestrians, bicyclists and drivers circling in search of parking spaces.
According to Google, computers, and thus driverless cars, are better at responding to the unexpected on the road.
"As it turns out, what looks chaotic and random on a city street to the human eye is actually fairly predictable to a computer," wrote Urmson in a blog post last month. "As we've encountered thousands of different situations, we've built software models of what to expect, from the likely (a car stopping at a red light) to the unlikely (blowing through it)."
Rodney Brooks, co-founder and former CTO of iRobot and co-founder and CTO of Rethink Robotics, might agree with him. Speaking at a computer science and artificial intelligence symposium at MIT in Cambridge, Mass., today, Brooks said autonomous cars will soon be seen as elder-care robots.
"Over the next 40 years, there will be a huge growth in the number of elderly residents," he said. "We need the elder-care robots and self-driving cars... It'll make driving easier. It detects pedestrians. It has sensors up the wazoo. It will give me the dignity of having control of my life longer."