Google makes Android Wear for iOS official, giving Apple Watch a bit more competition
Will iPhone users even care about Android Wear watches? They might if they're fully vested in Google services, and want a round smartwatch.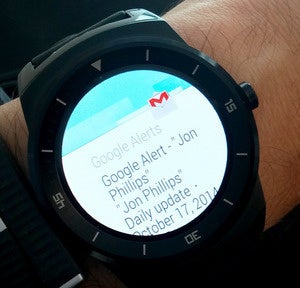 Jon Phillips Gmail should be fully supported in the Android Wear for iOS experience.
iPhone users will be able to see notifications for phone calls and Messages, but unlike Android users, they won't be able to respond to messages with voice dictation from their Wear watches. That's a bummer, but at least Google Now looks to emerge unscathed. Google's digital assistant is packed with surprise and delight features, sending notification cards on traffic conditions, flight reminders, weather alerts and other personally tailored tidbits at just the right moment.
And of course, you can use Google Now to solve simple math problems, learn the latest sports scores, and pull off a host of other Googly search tricks directly from your watch.
So while Android Wear for iOS doesn't offer the complete Wear experience, it does support "the mass majority of Wear features we see our Android users using and loving," according to my source at Google. We'll know the full story once we pair an iPhone with LG's Watch Urbane, so please stay tuned for a hands-on.