Google makes Android Wear for iOS official, giving Apple Watch a bit more competition
Will iPhone users even care about Android Wear watches? They might if they're fully vested in Google services, and want a round smartwatch.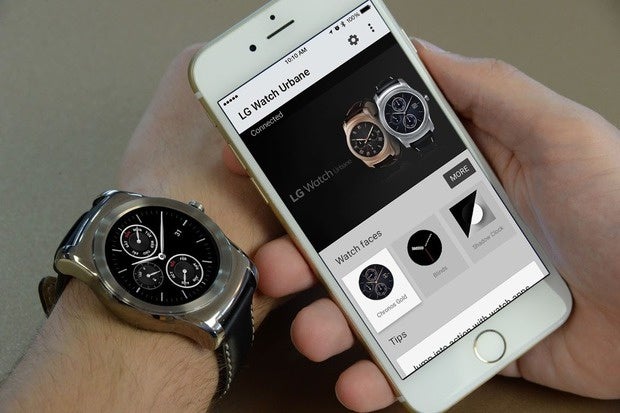 The LG Watch Urbane willl be the first Android Wear watch to run with iPhones. Credit: LG
Google finally announced iOS support for Android Wear on Monday, making good on a string of rumors that have persisted since the last major Wear update and reached a crescendo last week when Huawei outed iOS support on an accidental Amazon listing. iPhone owners won't get the full Wear experience that Android users get (see details below), but their smartwatch hardware options are about to explode.
On the phone side, the Android Wear for iOS app will work on iPhone 5, 5c, 5s, 6 and 6 Plus running iOS 8.2 and later. On the watch side, support is more limited: The app starts rolling out today, but currently only works with LG's Watch Urbane. However, most future Android Wear watches—including models from Huawei, Asus, Motorola, and presumably even TAG Heuer—should be iPhone-compatible.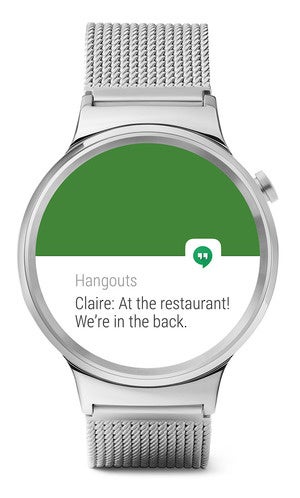 Google The Huawei Watch is slated to offer iOS 8.2+ support. It looks like iPhone Messages will be routed through Google's Hangouts platform, but users won't be able to respond to messages from the watch.
Why this matters: For most iPhone users, Android Wear support will be inconsequential. Apple's most smartwatch-curious customers have already bought an Apple Watch, or plan to do so as the platform improves with watchOS 2. And those iPhone users who don't fall in these two camps are probably too smartwatch-ambivalent to give Android Wear a serious look.
Indeed, we're probably looking at a very slim slice of potential converts: iPhone users who totally love the Google services universe—Gmail, Calendar and especially Google Now—and folks who want a smartwatch, but prefer the design of, say, a round-faced Huawei Watch over the lozenge-shaped Apple Watch.
Still, the move is a no-brainer on Google's part. If it's already spending untold riches on smart contact lenses and broadband balloons, why not drop a little development money on a relatively simple iOS app? The payoffs in cross-platform bragging rights are worth the price of entry alone.
What Android Wear for iOS does and doesn't do
For now, we can only glean broad-stroke indications of what iPhone owners will be able to do with Android Wear watches. Unfortunately (but not surprisingly), iOS users won't be able to use current third-party Android Wear apps available in Google Play. However, they will get simple notifications for all the iOS apps that already appear on their iPhones. They'll also have access to apps and richer notifications for various Google services.
Google notes rich notification support for Gmail, Google Calendar, and Apple Calendar. Users will also get all of Android Wear's Google Now cards—the platform's headline feature—and access to Google-authored programs like Google Fit (i.e., step tracking and heart rate data), Weather, Alarm, and Translate.