Google, Linaro develop custom Android edition for Project Ara
The special edition of Android will recognise when modules are added or removed on the fly.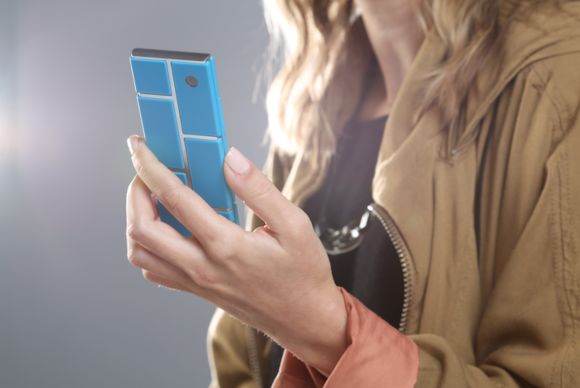 Google is working with open-source development organization Linaro to develop a special edition of Android for the Project Ara customizable smartphone.
Google's yet unreleased Project Ara is a build-your-own smartphone that allows users to mix and match features. The US$50 configurable smartphone will come with an empty phone frame and screen, and users can snap on or take out modular parts from the rear of the handset to add or remove features.
The smartphone, which will ship early next year, has already sparked the development of Lego-like modules that can be attached. Google has talked about detachable antenna and camera modules, but developers are also considering modules for wireless networking, gaming, storage and thermometers.
A special edition of Android had to be created for the unique customizable design of Project Ara, said George Grey, CEO of Linaro.
Work is being done around plug-and-play recognition of modules so Android can "understand the concept of devices that can come in and go away," Grey said.
"If you add more battery, Android has to [recognize] a new battery, update the icon and now you have more life," Grey said. "Some interesting changes to Android will be needed to score this functionality."
Android can already plug and play SD cards. But Grey said additional OS functionality is needed for storage, cameras and other modules that are typically inside smartphones, but can now be externally added to Project Ara.
A lot of work is also being done on UniPro transport drivers, which connect modules and components in Project Ara. UniPro protocol drivers in Android will function much like the USB protocol, where modules will be recognized based on different driver "classes," such as those for networking, sensor, imaging, input and others.
Some attachable parts may not be recognized by Android. For those parts, separate drivers need to be developed by module makers through emulators. "That will be need to be done in a secure system so the device can't do damage to the system," Grey said.
Google already offers a module developers kit (MDK) for Project Ara platform through which developers can take advantage of the UniPro hardware and protocol stack.
Grey couldn't share any more information on release dates for the OS, citing a confidentiality agreement with Google. He did not say whether the version of Android would be based on the latest L release, which supports 64-bit ARM processors. Linaro is working on Android with Google's Advanced Technology and Projects (ATAP) unit, which is leading the development of Project Ara.
However, more details about the Android edition may be shared at the second Project Ara developer conference scheduled for the end of November, which is when Google also plans to release an updated version of the MDK.