Google kills Magazines and Currents so that Newsstand may live
The new app is Mountain View's attempt to make buying digital magazine subscriptions more of a thing than it is.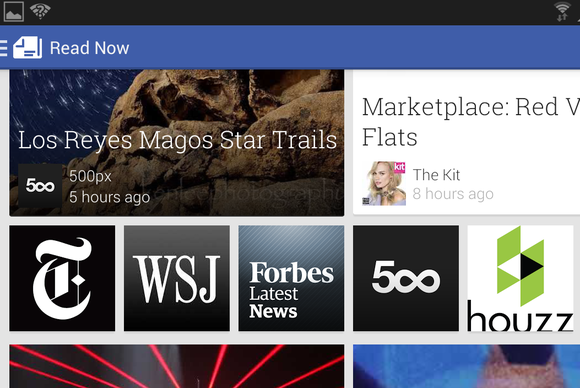 Google has decided to engage in a little spring-cleaning in the middle of autumn; the company announced today that it would combine its Google Currents and Google Play Magazines into new the new Google Newsstands app.
The app gives users a cards-based view for magazine articles and blog posts. The app combines Feedly- or Flipboard-like access to RSS feeds and websites, but also allows users to purchase digital magazine subscriptions directly through Google Play.
First off, A tip of the hat must go to the Google design team for Newsstand's integration of subtle animated pans in the marquee background culled from images found within the feed. This design feature largely falls in line with Google's newfound emphasis on subtle background animations, which is used to great effect in the company's snazzy new Google Now landing page.
All about paid subscriptions
While Newsstand does give access to RSS and website feeds, it is no reincarnation of Google Reader, nor is it a direct competitor with other content apps. Newsstand doesn't offer bare-bones list views a la Feedly, nor does it offer social media or multimedia inputs a la Flipboard. What Newsstand does do is try its darndest to make consumers comfortable with purchasing digital subscriptions through Google Play.
Everything points users back into Play. Indeed, the Google Play storefront now offers a Newsstand tab on the left side of the opening page. The Newsstand tab can be used to add new magazine subscriptions and marquee-name blog feeds to the app.
The blog subscriptions tend to be free, while the magazine subscriptions are typically available for a fee.
However, Google Play is--unfortunately--not a desktop hub for Newsstand. (As a side note: I love synchronized web/desktop interfaces for apps, more developers should take advantage of this functionality. But I digress!). As when cultivating one's apps within Play, users are not able to subtract subscriptions directly from Play's Newsstand hub. Only add.
For example, Newsstand came pre-loaded with a number of publications, including a Canadian women's fashion and beauty magazine called The Kit. I'm sure The Kit is a fine publication, but I am simply not the target demo here. I was not able to unsubscribe directly from Google Play, though I could remove it from the app.
Additionally, Play would not allow me to search/add a blog feed--say, this one you are reading right now--but I was able to search for "TechHive" within the Newsstand app and then add it to my feed list.
Google promises that Newsstand will use Mountain View's machine learning ability to deliver/recommend content based on your tastes based on your search habits.