Google Chromebook Pixel is an expensive curiosity
As an idea sprung from Google's view of the future of technology, the Chromebook Pixel is intriguing, even intoxicating. But it's hard to fathom how it works as a real-world product.
When using the Pixel's touchscreen to swipe between images on the 500px Chrome app, I noticed that scrolling seemed laggy when I used my finger, but crisp when I used the keyboard. Part of this is, I think, psychological: When you move your finger, you expect the content underneath your finger to move along with it. But that's not all of it: When I touched an arrow key, the app scrolled to the next picture much more smoothly than it did when I swiped. The UI just wasn't measuring up. The overall experience left the touchscreen seeming at times surprisingly inferior to the keyboard.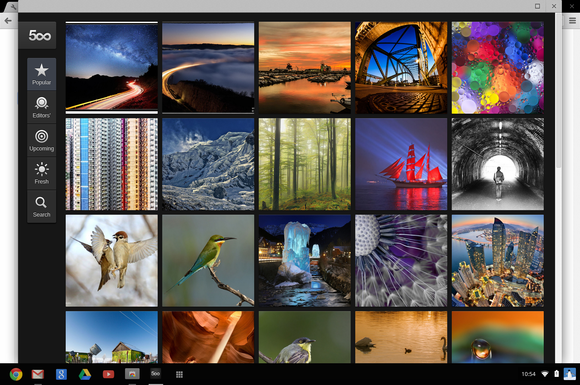 In the 500px app, moving through photos seemed faster using the keyboard than the touchscreen.
The Pixel's trackpad is a large black, glass multitouch model comparable to those found on Apple's laptops, and its backlit keyboard is similarly Apple-like. There's no standard set of function keys at the top, though--instead, there's a bar of buttons used to control brightness, volume, and similar features.
Ports are minimal. The Pixel has two USB 2.0 ports (not 3.0, sadly), a Mini DisplayPort for video out, a standard headphone jack, and an SD card slot.
Higher-end Pixel includes Verizon LTE
The higher-end Pixel is made for cloud-based computing. Consider the 64GB of solid-state storage to be just in case. Onboard storage is really not the point of this device, but it's actually hard even to find it in Chrome OS: Files is just another icon in the app dock. More important is the integrated 4G networking, which comes with two years of Verizon LTE service and 100MB per month of data. My Pixel connected to Verizon's LTE network automatically whenever it couldn't find a local Wi-Fi hotspot. With the exception of a couple of airplane flights I was able to use the Web anytime, anywhere. The $1299 version of the Pixel has just 32GB of storage and no 4G.
Driving the entire experience is a dual-core Intel Core i5 processor running at 1.8 GHz. That's far more power than any other Chromebook can boast. The Pixel posted competitive times in HTML5 gaming, Javascript processing, and other tests--even compared to some full-fledged laptops. But this power (and the display) taxed the battery, which lasted just over 3 hours in our tests.
Chrome OS is the brains behind the beauty
As accomplished as the Chromebook Pixel's hardware is, it can't be judged on its own. The hardware works in concert with its software--in this case, Google's Chrome OS.
Chrome OS is a bold move by Google to move beyond traditional operating systems. Everything--and I mean everything--in Chrome OS happens in a browser tab. Even hardware settings (such as shutting down wireless networking before boarding a plane) are controlled via a panel inside a browser tab.
Previous Page 1 2 3 4 Next Page