Google Chrome: How to make it faster, smarter and better than before
Google's Chrome is already one of the fastest web browsers on the block, but you can use these extensions and experimental tweaks to make it sing.
If you aren't using Google Chrome yet, you should be. When it comes to browser speed--and especially JavaScript performance--Mozilla and Microsoft can't compete with Google. But Chrome can go even faster if you're willing to make some adjustments under the hood.
To help with that effort, we've gathered for your consideration a few of our favorite free Google Chrome. Experience the power enhancements they provide, and in a few days you'll wonder how you ever survived online with a bare-bones browser.
If you're a more-advanced power user, you can dig into Chrome's experimental options that use your CPU and GPU to optimize your Web browsing. Those options are buried in an obscure Chrome menu to prevent casual surfers from accidentally borking their browsers, but we'll describe where the options are and how they work. Speed freaks unite!
Power extensions
If you don't already have the latest version of Google Chrome installed and running properly on your system, take those preliminary steps now. Afterward, open the Chrome Web Store, and you'll see an overwhelming array of Chrome apps for augmenting your browser with games, music players, and social networks. The extensions we'll focus on here are designed to make Chrome leaner, meaner and more efficient.
FastestChrome: As its name would lead you to expect, FastestChrome adds a few useful time-saving tools to your Chrome browser. Its features consist mainly of surface-level stuff, such as displaying a pop-up bubble with an explanation of a word whenever you highlight one, and providing the option to look up that word on any of four different search engines (Wikipedia, DuckDuckGo, Surf Canyon, and of course Google.)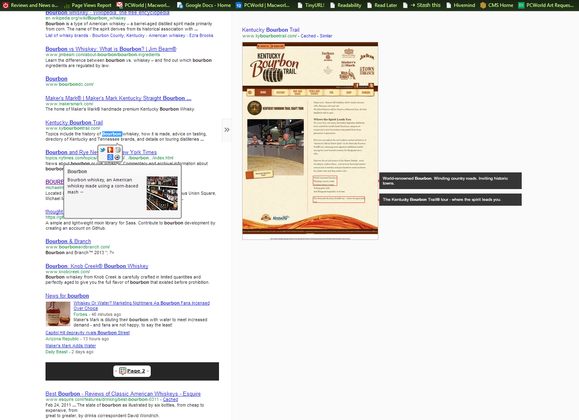 The extension also lets you choose to automatically transform written URL text into clickable links (which makes reading email messages from less tech-savvy friends a lot easier), and its Endless Pages feature automatically loads the next page of a website (think Google search results or an eight-page Vanity Fair article) so you won't waste precious seconds clicking Next and waiting for the page to load.
Google Quick Scroll: This extension whisks you straight to the search terms you're looking for on any given website. WithGoogle Quick Scroll installed in Google Chrome, every time you click through a search link, a tiny box containing a preview of the text highlighted in your search result will pop up in the bottom-right corner of your browser. Click that box, and Chrome will take you there without further ado.
Chrome Toolbox: Install the Chrome Toolbox to open multiple bookmarks in a single click, to cache unsubmitted form data so you can avoid retyping it each time you create a new profile, to magnify images and video right from within your browser, and in general to make Chrome twice as useful as it already is.