Geometry Wars 3: Dimensions adds fun new layers to the arcade blaster
An Adventure mode with new 3D stages is just icing on the cake for this awesome series return to iOS.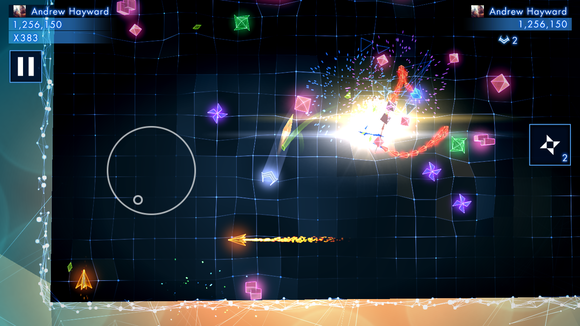 These days, keeping up with games can be a full-time job. So how do you separate the signal from the noise, the wheat from the chaff, the Temple Runs from the Temple Jumps? Allow us to help by regularly selecting a game You Should Play.
Controller-based games don't always translate well to touch devices, and Geometry Wars seems like it ought to be a prime example of that. While inspired by classic arcade games (especially Robotron: 2084), the series is built around the dual analog sticks of console gamepads, letting you easily steer your ship with one stick and fire with the other as you zip around the minimal, neon-tinged terrain. Precision is absolutely necessary, given the small stages and focus on amassing high scores.
Amazingly, when Geometry Wars Touch launched alongside the original iPad in 2010, it was a rather strong port: virtual sticks replaced the real ones, and while they didn't feel quite as precise as physical ones might, the fun remained. Fast forward five years and now we have Geometry Wars 3: Dimensions Evolved, brought over from consoles just months after the original release--and it's even better.
Like the earlier entry, Geometry Wars 3 is fantastic fun throughout, delivering tense shootouts against an array of enemies, along with plenty of variety--there's even a mode without guns, and for my money, it's the most entertaining of the bunch. But Dimensions doesn't just maintain the popular content from before: as the subtitle suggests, it also adds 3D stages alongside the typical flat ones, offering new gameplay twists and some nice visual pop along the way.
And it doesn't succumb to freemium trends, with a single $5 price point that gains you access to its ample content. Ready to blast off into these shimmering shootouts? Here are three ways in which Geometry Wars 3 delivers serious satisfaction.
Compulsive fun: Geometry Wars drops your little ship into a grid and then begins loading the space with enemies. Early foes might be simple creatures that slowly pursue, but before long you've got cubes that explode into smaller ones, glowing snakes that slither about, lengthy formations of arrows that bounce from wall to wall, and perhaps even a wormhole that'll suck you in if you get near. Needless to say, the series thrives on chaos, and staying alive amidst that madness is a real test.
But that's where the fun comes in. Dimensions is a "one more time" favorite, as the quick play sessions and tough-but-fair design compel you to dig back in time and again to increase your score. A lot of the fun comes from the extra gameplay layer beyond killing or being killed: each downed enemy drops little green bits that boost your score multiplier. As such, finding serious success--and taking down your friends on the online leaderboards--means nimbly moving through the madness and collecting while blasting. It amps up the tension to incredible levels at times.