Gear VR may thrill gamers, but value to Samsung and business is unclear
Galaxy Note 4 seen as incremental improvement, while the Note Edge is unproven.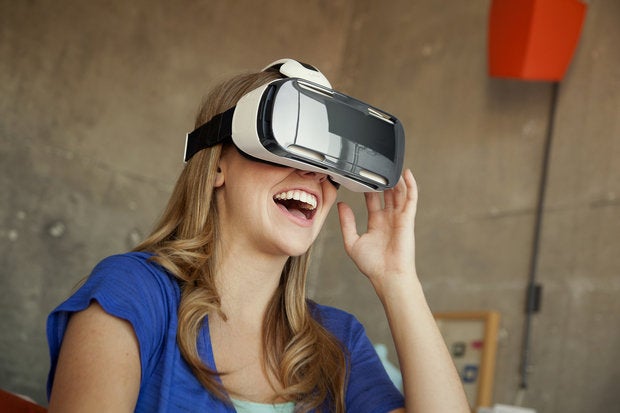 The Gear VR virtual reality headset works along with the Note 4 smartphone. Credit: Samsung
Samsung's announcement of the Galaxy Note 4, Galaxy Note Edge and especially the Gear VR virtual reality headset raised questions over whether the new devices can help correct the company's lackluster first half financials, which were partly blamed on slow Galaxy S 5 sales.
It's a tough prediction to make, analysts said. The main reason is that rival Apple could burst on the scene with a larger iPhone and a smartwatch at an event set for Tuesday, undercutting much of Samsung's impact in the market.
The new Gear VR announced Wednesday should excite the gaming community, while its more practical applications for business users are far off. The Gear VR came out of a year-long Samsung partnership with VR innovator Oculus VR.
The Gear VR headset is used along with the new Note 4 "phablet" smartphone. The 5.7-in. Note 4 fits inside the Gear VR to provide a 1440p Amoled display and all the processor power needed for a low-latency, mobile virtual reality experience. It is an "Innovator Edition" beta version, not a final consumer product. Pricing was not announced.
The Gear VR will come with a new Oculus Mobile developer tool, which will be the main ingredient in determining whether exciting or practical new apps will be built.
"With VR [in the commercial space], it is still early days, even though VR has been around for so long" for industrial and military applications, said Carolina Milanesi, chief of research at Kantar Worldpanel. "The apps are what makes the difference."
During its announcement, Samsung officials mentioned that airline pilots already train on expensive VR headsets, but there are also a range of healthcare apps that could come into play for a less expensive, consumer-grade device. These apps could include training tools for surgeons for delicate operations or industrial repairmen for complex assembly processes.
"I don't see Gear VR being big in enterprises in the short term, except perhaps in some highly specialized spaces," said Jack Gold, an analyst at J. Gold Associates. "VR glasses for enterprises will require more of a see-through ability, kind of like Google Glass does, than a blocked vision approach like Gear VR. It's unclear how many apps will be developed for the Android Note 4 phone that can be used with the 3D features of Gear VR."
Analysts also said new apps built with Samsung developer tools will be key to adoption of the new Note Edge, which has a curved screen that wraps around the right edge of the display. From there, users can get quick access to alerts and frequently used apps, including the camera shutter, even when the case is closed.