GE to pay $1.4B for two 3D printing companies to expand manufacturing
GE expects to grow its annual 3D printing business to $1 billion by 2020
Arcam AB, based in Mölndal, Sweden, invented the electron beam melting machine for metal-based additive manufacturing, and also produces advanced metal powders. Its customers are in the aerospace and healthcare industries. Arcam generated $68 million in revenues in 2015 with about 285 employees, according to GE.
In addition to its Sweden site, Arcam operates AP&C, a metal powders operation in Canada, and DiSanto Technology, a medical additive manufacturing firm in Connecticut., as well as sales and application sites worldwide.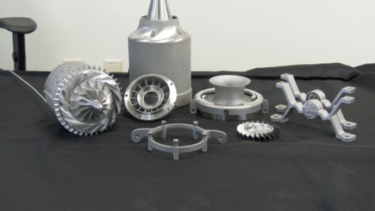 The 3D printed parts of GE's 3D printed jet engine.
SLM Solutions Group, based in Lübeck, Germany, produces laser machines for metal-based additive manufacturing with customers in the aerospace, energy, healthcare, and automotive industries. SLM, with 260 employees, generated $74 million in revenues in 2015. In addition to its operations in Germany, SLM has sales and application sites worldwide.
Last year, GE completed a multi-year project to 3D print a working jet engine.
The engine, small enough to fit in a backpack, was built by a team of technicians, machinists and engineers at GE Aviation's Additive Development Center outside Cincinnati. The lab is working with additive manufacturing as a way to produce next-generation jet parts using a technique known as Direct Metal Laser Sintering (DMLM).
In July, GE Aviation introduced into airline service its first additive jet engine component -- complex fuel nozzle interiors -- with the LEAP jet engine. The LEAP engine is the new, best-selling engine from CFM International, a 50/50 joint company of GE and Safran Aircraft Engines of France.
More than 11,000 LEAP engines are on order, with up to 20 fuel nozzles in every engine, setting the stage for sustainably high and long-term additive production at GE Aviation's Auburn, Ala. manufacturing plant. Production will ramp up to more than 40,000 fuel nozzles using additive manufacturing by 2020.
GE Aviation is also using additive to produce components in its most advanced military engines. In the general aviation world, GE is developing the Advanced Turboprop Engine (ATP) for a new Cessna aircraft with a significant portion of the entire engine produced using additive manufacturing.
"GE's aspirations in additive fits our long-term business model. We have world-class industrial businesses that leverage systems integration, material sciences, services and Predix,"Jeff Immelt, Chairman and CEO of GE, said in a statement. "We want all of our businesses to leverage the GE Store, promote digital differentiation, and drive productivity for GE and our customers. We are excited about the opportunity.
"Additive manufacturing is a key part of GE's evolution into a digital industrial company," Immelt said. "...We are poised to not only benefit from this movement as a customer, but spearhead it as a leading supplier."