Game maker writes a love letter to classic strategy games with Massive Chalice
Double Fine's next game is being developed with an unprecedented level of fan involvement.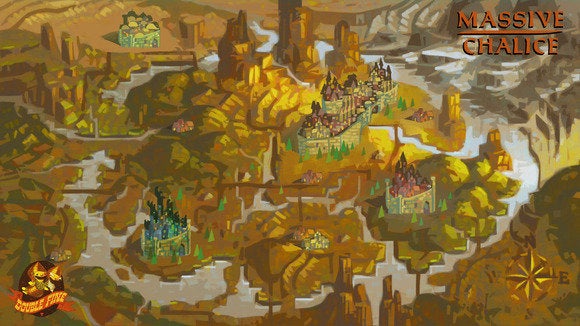 Brad Muir is a Double Fine man with a mission: Build the best tactical strategy game possible with money and feedback from the people who want to play it.
It's a bold move in crowdsourcing game development—Muir has already raised nearly $1 million on Kickstarter to make his game. This week, he roved the E3 floor to spread the word about how it will be a love letter to classic strategy games.
Muir leads development on Massive Chalice, a crowdfunded game in the works from Double Fine Productions. It's a tactical strategy game that straps you into the fur-lined boots of an immortal ruler whose fantasy kingdom is besieged by a terrible demonic force.
Though Chalice draws inspiration from Tolkien-esque fantasy games like Final Fantasy Tactics and Fire Emblem, it sports a unique art style that's surreal and a little unsettling.
"What we're going for is less Tolkien, more del Toro," says Muir, referring to sci-fi and fantasy movie director Guillermo del Toro. "We want people to be repulsed and kinda attracted to the demonic technology at the same time."
What makes Massive Chalice noteworthy is Muir's open attitude to modifying the game based on fan feedback. It's not just backers, either; Chalice affords Kickstarter donors typical customization options like custom bloodline names, mottos, and sigils, but Muir wants to take it to the next level by incorporating ideas from the Double Fine community at large.
To that end, the Massive Chalice team is soliciting suggestions on new monsters, heroes, relics, and even gameplay systems from fans, and is monitoring the Double Fine forums for smart ideas during the production process.
The dream is to produce a better game by incorporating the hard-earned wisdom of fans who have spent hundreds of hours playing similar games. "I love playing hardcore strategy games like Disgaea and Crusader Kings II, even though I don't have time to get deep into them," Muir says. "But some people do get really into those games, and they probably have some good insight into what makes those games special."
Game Details
It's a bold experiment in open development, and Double Fine risks ruffling the feathers of superfans who submit ideas that don't make it into the game—or worse, do get added without satisfactory attribution.
But Muir seems confident the Double Fine community will happily support the open development process, and it's hard to disagree—after all, these are presumably the same people who pledged almost $1 million to Double Fine on faith alone.
Well, faith and the promise of a new turn-based tactical strategy game from the folks who made Iron Brigade. And Massive Chalice is shaping up to be something special, with a macabre level of long-term hero management I've never seen in a game before.