Galaxy S6 first look: Inspired by the iPhone 6, but no mere clone
The new flagship Samsung Android smartphones are surprisingly elegant and thoughtfully designed.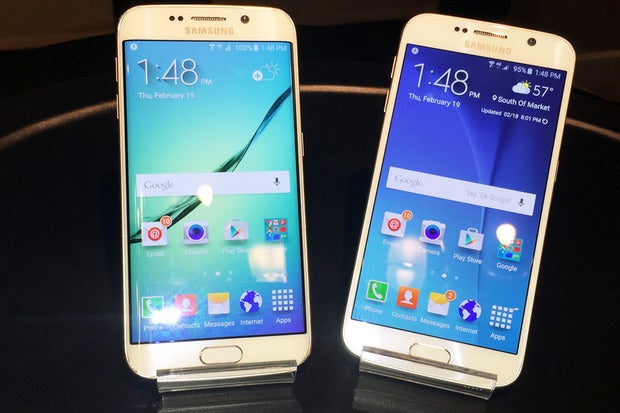 Samsung today announced the Galaxy S6 and Galaxy S6 Edge, its flagship smartphones for 2015. I was able to use the two devices briefly in advance for a first look, and I was impressed. The new Galaxy S6 devices have a much nicer feel and more thoughtful design than last year's plasticky, boorish Galaxy S5.
Samsung is often accused of cloning whatever Apple does or is even rumored to be doing, and there's much truth to that claim. At first glance, each Galaxy S6 looks like a love child of the iPhone 6 and iPhone 5s, with its metal and glass case, understated design, and choice of interesting colors.
It's certainly fair to say the Galaxy S6 models were inspired by the iPhone 6 and 5s, but they're no mere copies. Samsung finally seems to have learned that a product's feel is important -- and to find its own way to deliver on it. After all, smartphones are often extensions of the people who use them, so they should be something you're proud to carry.
Based on my cursory usage, the Galaxy S6 and S6 Edge should back up their aesthetics with strong performance and greater usage conveniences. I didn't get enough hands-on time to conduct in-depth performance testing, so my judgment could change based on extended experience with the devices.
Also, you won't find any breakthrough technologies in the Galaxy S6 or S6 Edge. Beyond the new processor and screen, most of the S6s' hardware enhancements debuted in the Galaxy Note 4 or Galaxy Note Edge.
Still, I'm optimistic about the new Galaxy S6 models because, for the first time in a while, Samsung is delivering a well-integrated experience.
The new Galaxy S6 models will ship in the United States in April on all the major carriers, Samsung says, though the specific launch dates, colors, and prices are up to the carriers to decide.
The Galaxy S6 Edge's edge is its curve
The new Samsung Galaxy comes in two models: the S6 and the S6 Edge. The Galaxy S6 Edge has curved glass edges that expose the left and right sides of the screen, similar to the Galaxy Note Edge. The regular Galaxy S6 has the standard flat screen, with an iPhone 5s-like bezel on all sides.
The curved edge displays are shallower than in the Note Edge, so there are no special status icons in the Galaxy S6 Edge. Instead, the edges help make some information more visible when the smartphone is resting on a table and you're viewing the screen at an angle.