Former Apple exec's new company offers home setup with gadget buys
Ron Johnson, the man behind Apple's retail stores, launches Enjoy in Bay Area.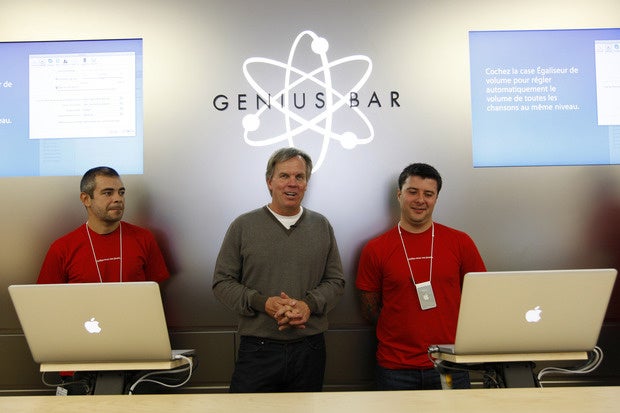 Ron Johnson, center, senior vice president of Retail Apple, speaks to the media at the opening of the company's retail store in Paris in this 2009 photo. Credit: Jacky Naegelen/Reuters
The man behind the idea of the Apple store and the Genius Bar has launched a store where trained employees bring the gadget you bought to your house and help you set it up.
Employees at the new company, called Enjoy, will deliver your purchase to you at home, the office or even a corner deli. And then they'll spend about an hour setting it up or helping you figure out how to use it.
It's a new way to combine the convenience of online shopping with the service behind having a personal shopper, according to Enjoy CEO Ron Johnson, who was once CEO of J.C. Penney and the senior vice president of retail operations at Apple.
"We're thinking of it as a personal commerce platform," Johnson said during an on-stage interview at the Collision conference in Las Vegas today. "Shopping online is convenient, but there are times you need help. If I buy the new Apple Watch, how do I sync that to my phone? How do I have this really improve my life? That's something you need someone to help you with."
The delivery and set up don't cost anything extra with a purchase. But if someone wants an Enjoy employee to come out and help them with a tech product they already own, there is a $99 fee.
The business, which launched in the Bay Area in California, is expected to get started in Manhattan soon, according to Johnson.
"I think the concept is great," said Patrick Moorhead, an analyst with Moor Insights & Strategy. "I think there is a need for it, particularly for those people who aren't tech-savvy or don't want to spend the time learning how to set up a product."
The tricky part of making the new company work will be how good and well-trained its employees are. "The challenge will be the people," added Moorhead. "Enjoy's employees need to be smart, approachable, and cannot be creepy in the least."
AT&T has inked a deal with Enjoy so on May 19, when someone orders an iPhone from the AT&T website, they'll have the option to click on an Enjoy button. That will allow them to pick a day and time to schedule someone from Enjoy to deliver the smartphone and set it up.
Johnson told the Collision audience that it doesn't cost any more to buy a product from his business than to buy it from Amazon.com, BestBuy or another store.