Forget Haswell: Why tablet processors mean more to Intel at Computex
Intel's bid for mobile relevance became a whole lot stronger at Computex, starting with the news of an x86-based Samsung Galaxy Tab.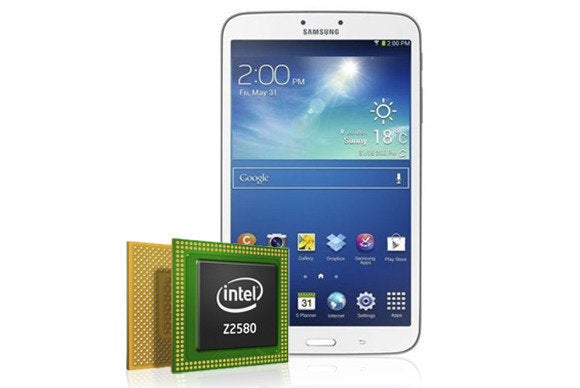 Intel's Haswell processor line may have gotten all the glory at Computex this weekend, but ten years down the line, we may just remember Computex 2013 as the year that Intel's most portable CPUs were finally embraced by mobile manufacturers.
Intel's portable technology has made waves before, of course--remember those x86 smartphone processors from 2012? But for the first time ever, it's looking as though all of Intel's pie-in-the-sky promises are truly turning into real-world hardware wins. The prospect already has ARM bristling to defend its turf.
"If Intel continues on its trajectory, we're going to look back on [Computex 2013] and say not necessarily that it's where Intel's mobile push started, but that it's where it started to gain traction," says Patrick Moorhead, founder and principal analyst at Moor Insights and Strategy.
Let's take a peek at that traction in action, starting with honest-to-goodness Android tablets with Intel Inside.
Android lands on Intel
While Intel has notched a few Android smartphone wins on its post, it was never able to convince a big manufacturer to take a stab at a proper Atom-powered Android tablet--until Computex, that is. And at Computex, it landed one of the biggest fish swimming around in the Android ocean: Samsung.
While the 8-inch Galaxy Tab unveiled Monday runs a standard ARM processor, the 10.1-inch flagship model sports a dual-core Intel chip of unspecified design. Since the tablet is due to launch in June, look for it to likely rock the "Clover Field+" Atom system-on-a-chip popular in today's Windows tablets, rather than the next-gen, Silvermont-based "Bay Trail" processors slated for release by the holidays.
Even so, it's a humongous win for Intel.
"Intel has made some dramatic improvements in the mobile market, and I think what we're starting to see now are the fruits of their hard work and labor," Moorhead says. Intel has been laying the groundwork for its mobile chips for more than four years. "They deserve a lot of credit. This is only stage two or three of a ten-stage plan by Intel for mobile, but this is very positive for them."
More impressively, Intel won over Samsung despite the fact that 32nm Clover Trail chips aren't as slim as the 28nm ARM chips favored today, and that many Android apps have to be translated on-the-fly to ensure compatibility with Intel's x86 architecture.
Don't celebrate too much just yet, however. "Intel still has a lot of work to do and its market share in the mobile space, be it tablet or smartphone, is very, very small," CCS Insight analyst Geoff Blaber told IDG News Service earlier today.