Forget cards and flowers; crowdfunding site helps pay medical bills
Crowdfunding also addresses systemic issues with the healthcare system.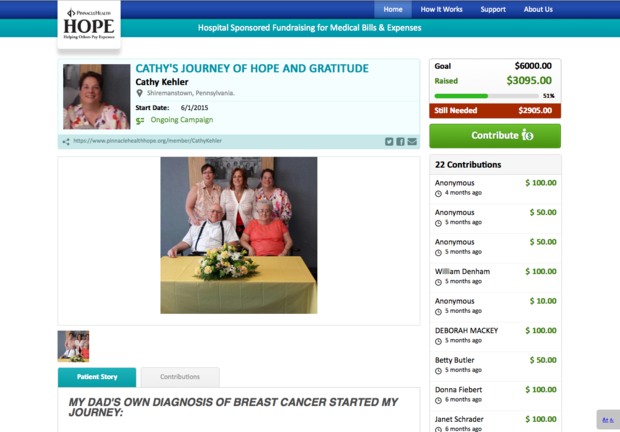 Someone Wth Group Cathy Kehler's crowdfunding webpage.
As Kehler's medical costs mounted, she became concerned her unpaid bills would be turned over to a collections agency and her credit rating would go south.
"If I'd not been made aware of it through the folks at Pinnacle Health Center, I'd be in very different circumstances," Kehler said. "When you're in a serious health situation, the thought of all the financial issues -- it's such a weight, it's almost impossible to get rid of. The reality is the bills do not stop coming in."
Kehler's crowdfunding campaign has raised $3,095 of a $6,000 goal, not enough to pay off all her debit, but enough to whittle away at it and keep her finances solvent.
Accustomed to being a caretaker of others and a caregiver, Kehler said the hardest part of joining a crowdfunding campaign was accepting help from others. But she soon learned it allowed her friends and family to offer more than gestures of kindness.
"Time and time again folks would say to me, 'We didn't know what to do. We just want to be helpful, we thought this would be helpful,'" Kehler said. "They never realized how incredibly helpful it has been."
Previous Page 1 2 3