Forget cards and flowers; crowdfunding site helps pay medical bills
Crowdfunding also addresses systemic issues with the healthcare system.
Cathy Kehler, a 50-something church worker who'd never had a serious illness, was diagnosed with early-stage breast cancer last spring.
Kehler's insurance, which has a $700-a-month premium, didn't cover all of her expenses and after three operations including a double mastectomy, her out-of-pocket expenses had soared to more than $8,000.
Family and friends offered emotional support, along with obligatory flowers, well-wishing cards and the occasional dinner to make life easier. But what Kehler needed was financial help for the bills weighing heavily on her when she was at her weakest.
The hospital where Kehler received her treatment set her up with a financial aid counselor who helped find some supplementary government insurance -- and a novel approach to paying medical bills: crowdfunding.
Kehler's hospital, part of Pinnacle Health Systems in Harrisburg, Pa., had recently partnered with a new financial services company, Someone with Group, which offers a HIPAA-compliant crowdfunding service for patient debt reduction.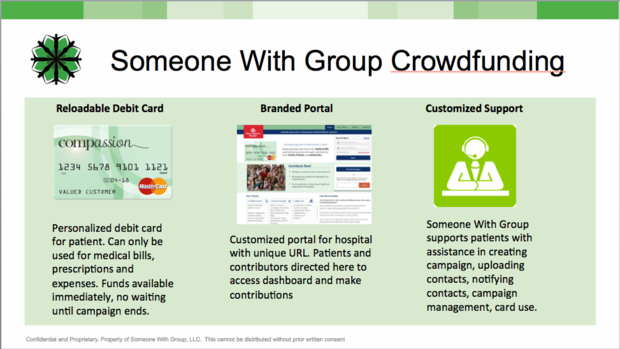 Someone With Group
"There are so many folks who want to help -- family, friends and even strangers -- and they don't really know what to do. There are only so many casseroles that can be put in the freezer," said Kehler, who is single, and described herself as independent.
Hesitant at first, Kehler said the hospital's financial aid workers were compassionate in helping to her to accept the idea of allowing others to help her.
The outpouring of support that followed was "overwhelming," she said.
Someone With Group's crowdfunding service not only helps with individual patient debt, it addresses a systemic problem in the healthcare industry.
"Obviously, with the increasing cost of healthcare, we have a significant amount of money we don't recover [from] folks who are under insured...or have a high-deductible plan and can't afford out of pocket expenses," said Bill Pugh, CFO of Pinnacle Health Systems. "It's also another arrow in our quiver in helping patients...emotionally deal with debt.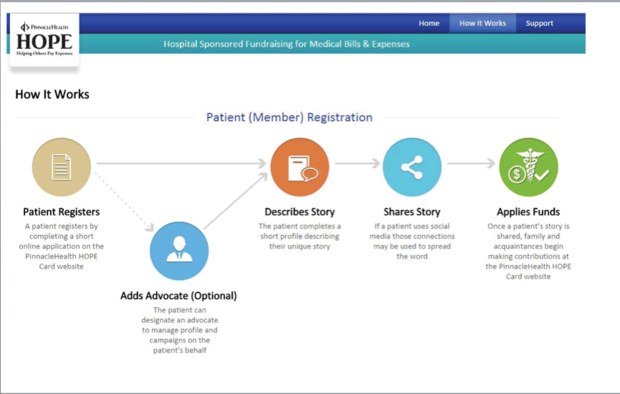 Someone With Group
"It's their choice. If they're not comfortable with it, we don't do it," Pugh added.
Pinnacle Health Systems includes three hospitals and about two dozen clinics or physician practices offering everything from general medical services and surgery to advanced cardiovascular, spinal and stroke care.
Pinnacle "routinely" writes off about $50 million a year in unpaid patient bills, an amount that is typical of hospital groups of its size, Pugh said.
Through Someone with Group, Pinnacle Health Systems can offer patients the opportunity to raise money from friends and family through crowdsourcing campaigns, the proceeds from which go onto a Pinnacle Hope Debit Card. The card is issued by Access National Bank.