Ford to offer self-driving cars without steering wheels by 2021
The autonomous vehicles would be for ride-hailing or ride-sharing services; vehicles for consumers would come later
In July, Ford announced it had also invested in Civil Maps, a Berkeley, Calif. developer of high-resolution 3D mapping capabilities.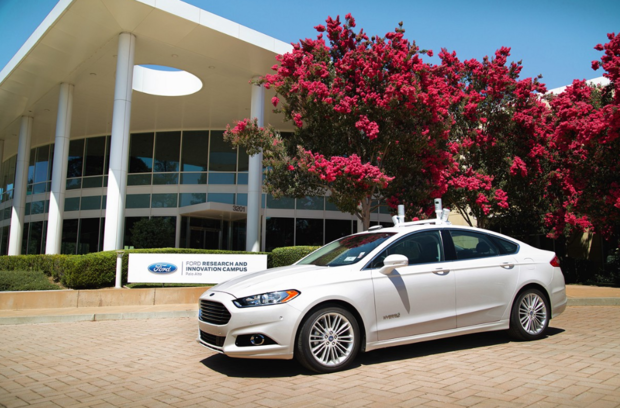 A Ford Fusion autonomous test vehicle with LiDAR from Velodyne Inc.
Ford said it is doubling down on autonomous driving technology because it will provide a new revenue stream previously not available from the ride-sharing and ride-hailing marketplace.
Fields said autonomous vehicles will also open up transportation to huge swaths of society, including the elderly and infirm who are unable to drive themselves. Autonomous technology will also address the fact that the nature of vehicle ownership is changing, Fields said, alluding to the fact that many millennials today begin driving later in life and sometimes rely solely on ride-sharing services.
Fields also noted that autonomous driving technology will reduce both pollution through more efficient use of vehicles and safety by allowing computers to take control.
"Right now, there are more than 30,000 motor vehicle deaths per year in the U.S. and 90% of them can be attributed to human error," Fields said.
This year, Ford plans to triple its autonomous vehicle test fleet, which it said will make it the largest such fleet of any automaker -- bringing the number to about 30 self-driving Fusion Hybrid sedans on the roads in California, Arizona and Michigan; it plans to triple that fleet again next year, Fields said.
"For most people, autonomous vehicles are a new idea, so we also understand that trust matters," Fields said. "We have spent the past century earning that trust. We know how to make safe, quality vehicles at high volumes to meet the needs of people around the world."