Ford to offer self-driving cars without steering wheels by 2021
The autonomous vehicles would be for ride-hailing or ride-sharing services; vehicles for consumers would come later
Ford Motor Co. today announced its plans to begin mass producing a fully autonomous vehicle by 2021 that it will sell for ride hailing markets such as Uber.
Ford's vehicle will be manufactured with no steering wheel, no gas or brake pedal. In other words, a driver will not be required.
"The world is changing, and it's changing quickly. We're not sitting on the sidelines. Ford will be actively driving that change," Ford CEO Mark Fields said during a news conference held at the company's Palo Alto, Calif. research facility.
Ford is planning to add two new buildings and 150,000 square feet of work and lab space adjacent to the current Research and Innovation Center in Palo Alto, doubling the size of the research team by the end of 2017. Currently, the facility has 130 researchers, engineers and scientists.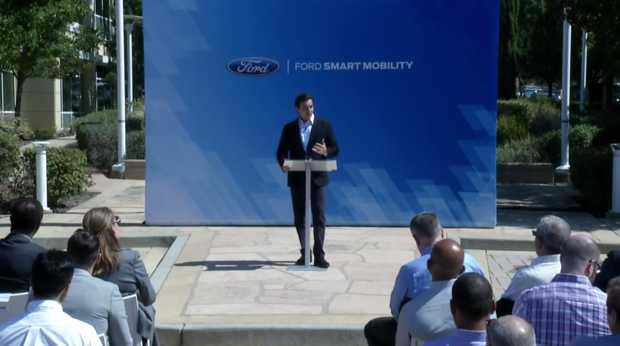 Ford CEO Mark Fields touted plans to mass produce a fully-autonomous vehicle for the ride-hailing market during a news conference in Palo Alto, Calif.
"It's now clear that the next decade will be defined by automation of the automobile. In fact, we see autonomous vehicles as having as big an impact on society as Ford's moving assembly line did a hundred years ago," Fields added.
Ford CTO Raj Nair described the move to create a fully autonomous fleet in five years as a change of plans from the company's previous direction of incrementally rolling out self-driving technology. Fields described the effort as a "top down engineering program."
What Ford will not be producing by 2021 is a fully autonomous vehicle for consumers, according to Nair. That will come several years after the 2021 release of an autonomous ride-sharing fleet because the "economics don't make sense" and the company has yet to determine how to hand control of a vehicle back to a driver safely.
"Our strategy is not about level three automation that would require a driver," Nair said.
The National Highway Traffic and Safety Administration (NHTSA) has created five levels to describe autonomous functionality, level 0 equating to no self-driving features and level 4 being a fully self-driving vehicle without a driver. Level 3 would be a fully-autonomous vehicle that allows a driver to retake control of the vehicle.
In order to achieve its autonomous vehicle goal, Ford announced four technology partnerships, including investing $75 million in Velodyne, a Silicon Valley-based leader in light detection and ranging (LiDAR) sensors.
The aim, Ford said, is to quickly mass-produce a more affordable automotive LiDAR sensor.
Ford is also acquiring SAIPS, an Israel-based computer vision and machine learning company that will increase the automaker's expertise in artificial intelligence and enhanced computer vision systems. Ford also penned a licensing agreement with German-based Nirenberg Neuroscience, a machine vision company founded by neuroscientist Dr. Sheila Nirenberg. The partnership will offer Ford machine learning modules for its autonomous vehicle virtual driver system.