Ford to invest US$1B in A.I. startup toward self-driving cars
The automaker is far from alone in spending on Silicon Valley software makers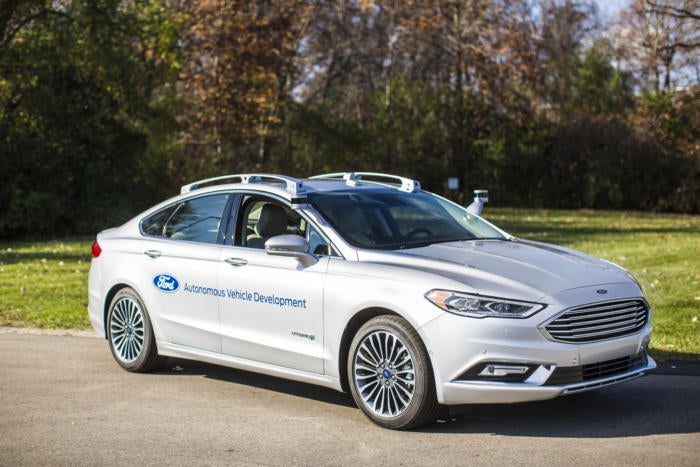 Ford announced today it's investing $1 billion over the next five years in an artificial intelligence (A.I.) startup founded by former Google and Uber employees to further the development of autonomous vehicle technology.
The massive investment will make Ford the majority stakeholder in Argo AI, but the automaker said the software company has been structured to operate with "substantial independence."
Ford said its relationship with Argo AI, which was founded last year in Pittsburgh, will combine its existing autonomous vehicle development program with Argo AI's robotics and "startup speed" on artificial intelligence software.
Ford
Ford CEO Mark Fields poses with the autonomous Fusion at the company's research lab in Palo Alto, Calif.
Argo AI founders CEO Bryan Salesky, and COO Peter Rander are alumni of Carnegie Mellon National Robotics Engineering Center and former leaders on the self-driving car teams of Google and Uber, respectively.
Argo AI's team will include roboticists and engineers from inside and outside of Ford working to develop a new software platform for Ford's fully autonomous vehicle, expected in 2021. Ford said it could also license the software to other carmakers.
Ford's model is similar to what was announced a few months earlier by Volvo and Autoliv (a huge auto supplier) to develop autonomous vehicle software that would be used by Volvo but also sold to other companies, according to Michael Ramsey, a research director at Gartner.
"In the end, the car companies don't want to license anything from another company unless they have to. In a few years, there's going to be some big consolidation because there are more makers than buyers," Ramsey said.
Ford's acquisition of Argo AI should be viewed more of as an organizational structure move and not an investment in this company.
"The company and its leaders have been acquired to run Ford's driver-control module for autonomous vehicles. The investment is plugged in over five years, and designed to give an equity reward to employees," Ramsey stated in an email to Computerworld. "Ford is trying to create a system where they can effectively hire top talent and reward it, outside of the bureaucracy that exists inside the company. It shouldn't be seen as a $1 billion gift to two guys."
The current team developing Ford's virtual driver system – the machine-learning software that acts as the brain of autonomous vehicles – will be combined with the robotics talent and expertise of Argo AI. This partnership, Ford said, will work to deliver the virtual driver system for Ford's SAE level 4 self-driving vehicles.
SAE