Flurry of hydrogen fuel cell cars challenge all-electric vehicles
Building out a refueling infrastructure is key to adoption.
According to auto news site Edmunds.com, depending on where you live, state and federal clean vehicle rebate incentives are likely to reach $13,000 "to reduce the sticker shock to a more manageable $44,500."
The Mirai can also be leased for $499 per month over 36 months (with a $3,649 down payment), which Edmunds said will be a "vastly" more popular option than purchasing a vehicle outright.
During a media event at the L.A. Auto Show, Satoshi Ogiso, managing officer for Toyota, said a Mirai hydrogen fueled electric battery "is capable of supplying enough energy to power home essentials in an average house for up to a week in an emergency."
The car can refuel in three to five minutes, according to Toyota. The Mirai has a maximum output of 152 horsepower and 247 pound-feet of torque. The fuel cell car is based on the Prius V chassis and suspension.
Additionally, many current-generation Prius hybrid components were used extensively in the fuel cell powertrain, including the electric motor, power control and main battery, according to Ogiso.
Fuel cell cars are not new and most major car makers have tested various models over the past decade or more.
For example, over the past 14 years, Toyota has been developing and testing more than 100 prototypes -- including Prius and Highlander models -- of fuel cell vehicles. In putting more than 1 million miles on those prototypes, the company claims to have found new ways to "dramatically reduce the cost of building a fuel cell powertrain."
"In fact, we estimate a 95% cost reduction in the powertrain and fuel tanks in the Mirai compared to what it cost to build the Highlander fuel cell back in 2008," Ogiso said.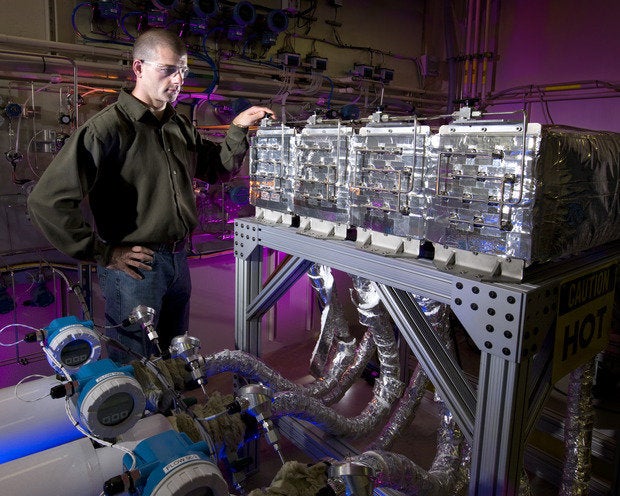 Sandia National Laboratory. A hydrogen fuel cell storage system at the Sandia National Laboratory.
Previous Page 1 2 3