Flurry of hydrogen fuel cell cars challenge all-electric vehicles
Building out a refueling infrastructure is key to adoption.
"So working on both coasts to ensure infrastructure is available," Hartline said.
The Toyota Mirai has two high-pressure fuel tanks that are 62.4 liters and 60 liters, respectively, in size. Each tank can hold up to 87.5 megapascals (MPa) of fuel. A megapascal is a metric unit of measurement that's roughly equivalent to 145 pounds per square inch (psi) of pressure. For example, 70 MPa would be equal to about 10,000 psi.
The Mirai's fuel tanks are wrapped in carbon fiber-wrapped resin that meet international standards for compressed hydrogen storage containers for vehicle fuel systems, Toyota said.
The fuel cell tanks drive a generator, which charges a lithium-ion battery. It is the battery that ultimately powers an electric motor that propels a vehicle.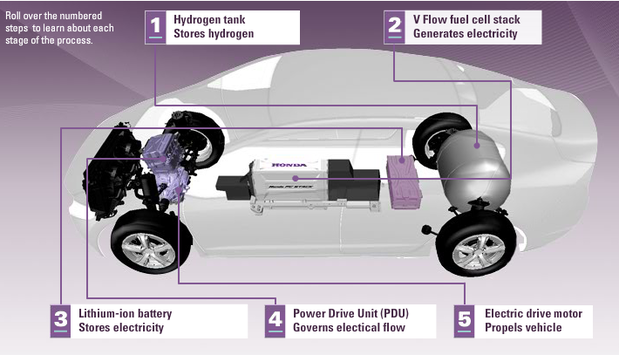 Honda. A depiction of the Honda FCX Clarity Fuel Cell Electric Vehicle's drive train.
Hydrogen fuel
Hydrogen fuel is made in a process called electrolysis, where direct current breaks off hydrogen molecules from water and stores them as a gaseous fuel. To create hydrogen gas for fuel, water must be heated to 1,100 degrees Celsius. Currently, natural gas is the leading method for heating water to create hydrogen fuel, however, renewable sources such as solar or even methane gas from landfills is being tested.
In Connecticut, for example, SunHydro is using photovoltaic (PV) panels in a chain of privately funded hydrogen fueling stations. Currently, SunHydro has one station in Wallingford, Conn., but plans to soon open a second station in Braintree, Mass.
Hydrogen fuel cell vehicles also scale well and are already being used in trucks and buses. That's an advantage for hydrogen vehicles since all-electric engines don't perform as well in larger vehicles, which require bigger batteries that need more charging, according to Devin Lindsay, IHS Automotive's senior analyst.
While Lindsay said hydrogen fuel cell vehicles will sell alongside all-electric and hybrids for the foreseeable future, he noted that Toyota has scaled back its efforts in all-electric vehicles.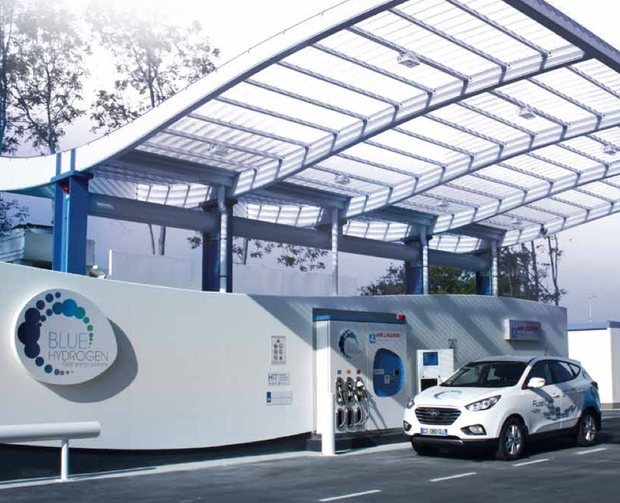 Air Liquide. A Hyundai Fuel Cell Vehicle at an Air Liquide refueling station.
"It boils down to giving consumers the vehicle they need to fit their lifestyle. Battery electric vehicles have a place for shorter range driving and urban areas," Lindsay said. "I think all of the manufacturers view battery electric as kind of a stepping stone to get us to fuel cells. So right now I think it's less about one taking away from another, and more about one complementing another."
While Toyota's zero emission Mirai vehicle may sound expensive, consider that an all-electric Tesla S sports sedan has a base price of $50,000.