Flurry of hydrogen fuel cell cars challenge all-electric vehicles
Building out a refueling infrastructure is key to adoption.

Toyota's 4-door hydrogen fuel cell-powered Mirai will go on sale next month. Credit: Toyota
At the L.A. Auto Show this week, leading car makers revealed their plans for hydrogen fuel cell vehicles, which use the most common molecule in the universe for power and release only water vapor as exhaust.
Toyota made a splash at the Auto Show by announcing that its hydrogen fuel cell system in a four-passenger sedan, the Mirai, will begin selling in December.
The midsized Mirai will have a base sticker price of $57,500. Toyota said the Mirai can accelerate from 0-60 mph in 9.0 seconds, and also claims the car can go from 25 to 40 mph (to pass other vehicles) in about three seconds.
Meanwhile, Honda announced it will delay the release of its fuel cell car, the FCX Clarity Fuel Cell Electric Vehicle (FCEV), until 2016. Hyundai, which began leasing its Tucson Fuel Cell in June, pledged to produce 1,000 units this year.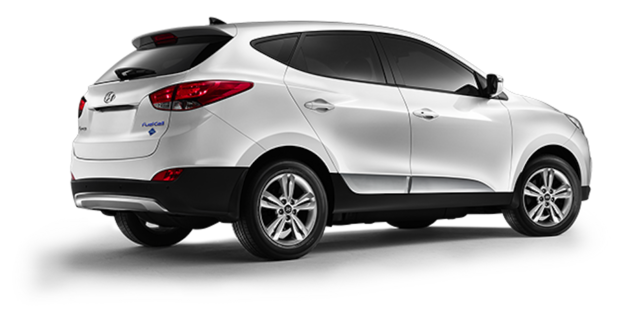 Hyndai. Hyundai's Tucson Fuel Cell vehicle
Hydrogen fuel cell cars have remarkable advantages over all-electric vehicles, such as the Tesla Model S, in that they can travel 300 miles on a tank of fuel and can refuel in just five minutes. By comparison, a Tesla using the company's so-called "Superchargers" requires at least 20 minutes to achieve a half-charged battery. A full charge will provide a range of up to 265 miles. Toyota's RAV4 electric vehicle can go a maximum of 125 miles on one charge.
Refueling stations are key to adoption
Key to hydrogen fuel cell-vehicle adoption will be availability of refueling stations and the cost of the fuel.
Tesla's 94 Supercharging stations now cover most of the metropolitan areas in the U.S., the company said. In a year, Tesla Motors CEO Elon Musk expects Supercharging stations to be within reach of 98% of the U.S. and Canadian population. The cost of the charging stations is built into the price of a Tesla car, so recharging is done for free.
If mass-produced and widely distributed like gasoline, the cost of hydrogen fuel would be equivalent to about $1 per gallon or less, according to U.S. government and industry sources.

Honda. Honda's FCX Clarity Fuel Cell Electric Vehicle is due in 2016.
Toyota said it is providing three years' worth of free hydrogen for the initial buyers of the Mirai.
The hydrogen fueling infrastructure is in its infancy. Refueling stations are few and far between. California is expected to build 28 stations by the end of 2016, bringing the state's total to 48 stations, according to Toyota spokeswoman Jana Hartline. Toyota has partnered with FirstElement Fuel to build refueling stations in California. Toyota has also partnered with hydrogen fuel provider Air Liquide to build a network of 12 stations throughout Connecticut, Massachusetts, New Jersey, New York and Rhode Island next year.