Flickr gets a stunning new look, but still feels incomplete
After years of languishing mostly unchanged, Flickr—the one-time leader in photo-sharing sites—finally got a major overhaul. Is it enough to get you back? Maybe.
The one gothca with the image uploader is that simply sticking them in the image uploader will not publish them; you have to click the blue "Upload" button in the upper right corner for it to actually publish them to your photostream. Flickr will nag you if you try to leave the Uploader before you actually upload and publish your photos, though.
Updated Android app
Flickr's website isn't the only thing that's improved: On Monday Yahoo also released an update to the Flickr Android app that puts it on a par with the version that's currently available for iOS. We tried out the latest version of the app on a phone running Android 4.1 Jelly Bean and were quite pleased with what we saw. Whereas previous versions of the app felt like shoddy Instagram clones, the new Flickr app puts a much bigger emphasis on browsing through photos rather than taking them.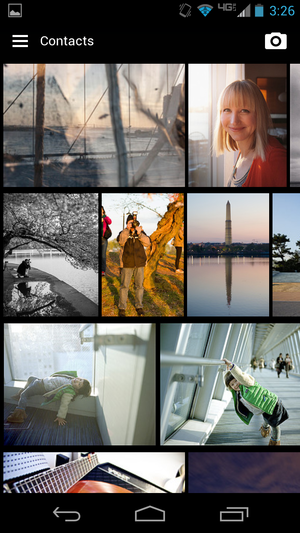 The updated Android app.
The first thing you see after signing in to the app is a wall of photos that you can browse through by swiping left or right on each individual row. The photos are pulled in from your friends' photostreams, but you'll also see photos from people Flickr thinks you should follow. Tapping a photo brings up a fullscreen version of the image, where you can comment, star, or view more information about the photo, such as what camera the photographer used and where the picture was taken.
Once you get sick of looking at your friends' "artistic" efforts, the Explore section of the app is a veritable treasure trove of great looking images. Flickr lets you filter by recent and popular photos taken nearby, giving you a good idea of that area's local color. For instance, most of the images taken near the South Beach neighborhood of San Francisco featured naked people and hipsters-an accurate representation of the types of things you'd see here.
If you're itching to show off your own photography skills, Flickr provides a number of photo editing options to get your images into tip-top shape. You can crop photos, adjust the contrast and saturation, and even add text to help your photo stand out. There are also a number of generic filters you can slap onto your photo to give it the "Instagram" treatment, but the advanced options should prove enticing to more serious mobile photographers.
The app is available for free from the Play Store and is worth checking out if you consider yourself a photography buff-or just like to stare at pretty images on your smartphone.
Expect improvements, not miracles
By and large, the new-look Flickr is a nice improvement over the old version, and it's hard not to like the free TB of storage. That said, it does feel incomplete in spots, and in terms of functionality, it isn't a huge improvement over the old Flickr. It's great to see Yahoo give Flickr more attention, though, so here's hoping for still more improvements and upgrades in the future.
[Assistant Editor Armando Rodriguez contributed the Android app coverage to this story.]
Previous Page 1 2 3