Flickr gets a stunning new look, but still feels incomplete
After years of languishing mostly unchanged, Flickr—the one-time leader in photo-sharing sites—finally got a major overhaul. Is it enough to get you back? Maybe.
A nice behavior change is what happens when you click a photo. Click once and it opens in a new page, click again and it opens in the lightbox, click a third time and it starts a slideshow starting with that image.
Searching for photos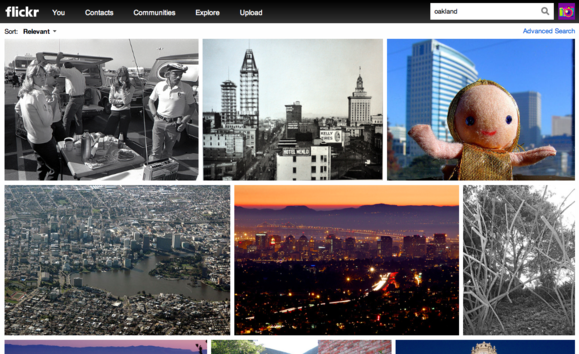 Same as it ever was...except prettier.
When you search for photos, you'll get a layout similar to the profile pages-a grid of photos that adjusts to fit the browser window. All the usual photo searching options are there as before: You can sort photos by relevance, date, or interesting-ness (which appears to be based on the number of views and favorites a photo has recieved). You can also still get at advanced search options, like whether to use SafeSearch and exclude potentially objectionable photos, or to search for photos with a Creative Commons license.
Aside from the new look, though, searching for photos is largely unchanged over the old version of Flickr, which is either a good thing or a bad thing, depending on your feelings toward Flickr search.
Photo pages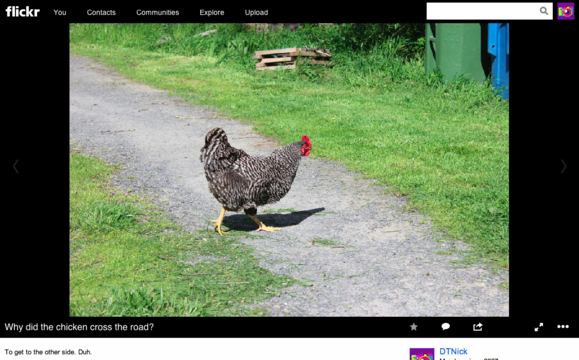 Flickr's new photo pages aren't a huge improvement over the old version.
From a functional standpoint, Flickr's new photo pages aren't all that different from the old ones: From here, you can comment on a photo, mark it as a favorite, view its EXIF data and licensing information, and more. The major difference here is that the photo itself itself is larger than it was in the previous design.
Compared to the rest of the redesigned site, though, the photo page feels like an afterthought from a cosmetic standpoint, especially after playing with the whiz-bang shininess of the homepage and profile pages. It's as if Yahoo took the old photo page design, changed the top half, and left the bottom half of the page intact. It doesn't make the new Flickr harder to use, but it does make it feel a little incomplete.
Uploading photos
The new Flickr features a slightly updated photo uploader still that lets you easily upload large batches of photos. You can select Choose photos and videos and upload that way, or you can drag and drop items you want to upload directly into your browser window.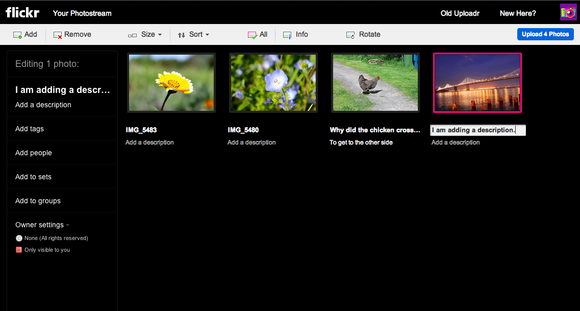 Once you do that, you can give titles to your uploaded items, add descriptions, tags, and people, add them to sets or groups, and set the license and privacy level. You can also reorder images by dragging them around or rotate them as needed. The layout of the page and placement of options seem to be different, as is the black background, but functionality is roughly the same as before. The image uploader worked well in my hands-on, but I was also using it on a speedy connection at the TechHive offices, so I wasn't able to try it out on a more typical home Internet connection.